A Year of Catering Consultancy | 2022 IN NUMBERS | TAF Catering Consultancy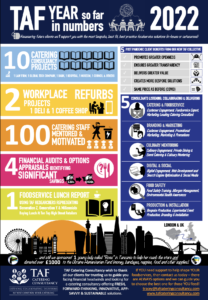 Well what a year it's been since 1st January 2022 alone, for our catering consultancy, catering consultants, TAF's friends and associates, as I draw breath on our FOURTH BIRTHDAY today. Above all, there are many things to be THANKFUL for.
Whilst it has been super challenging to provide FRESH, FORWARD-THINKING, INNOVATIVE, APP-SAVVY & SUSTAINABLE foodservice and hospitality solutions, in an industry that faces continuous challenges, we're inspired by so many in our network, which means we've been able to present bespoke solutions to our many clients – whether corporate, care or council feeding.
If you're trying to weather the storm and need support around YOUR IN-HOUSE or OUTSOURCED foodservices – Catering Audits, Catering Tenders, Customer Engagement, Design & Branding, Food Safety, Mobilisations, Research & Insights or Benchmarking – then contact us, there are options and we can support you to the best one for YOU!
Tracey Fairclough | Managing Director & Founder