Dear Contract Caterers … A Letter from TAF Catering Consultancy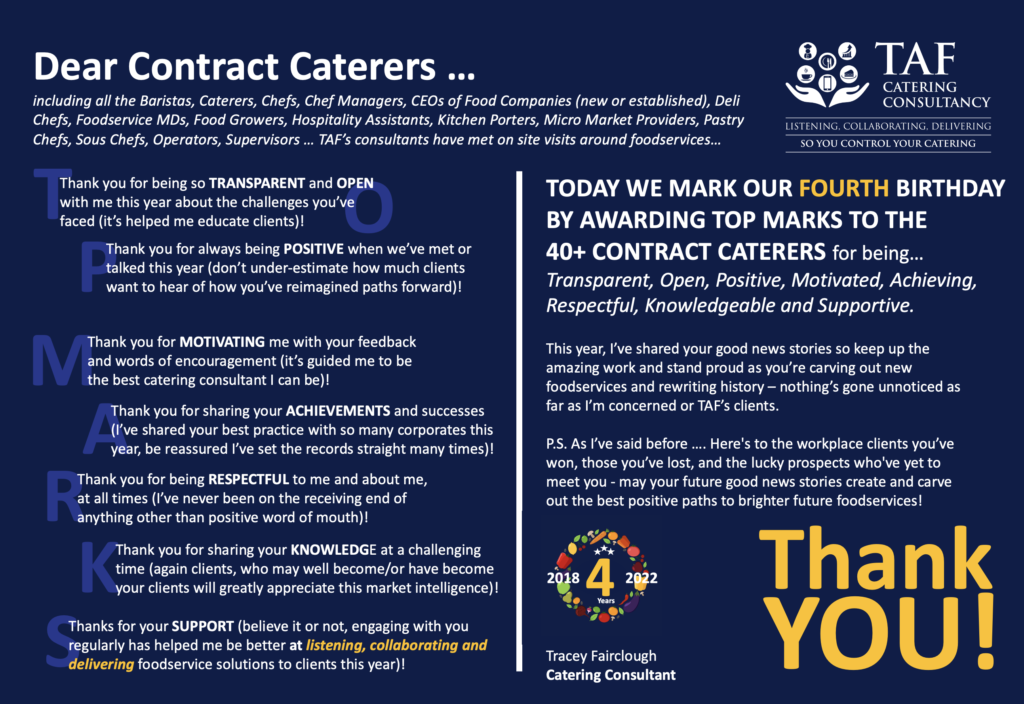 And so to TAF Catering Consultancy's FOURTH birthday, we reach out to all of those contract caterers, with whom we currently engage – and there are over 40 in our network today – to say WELL DONE, THANK YOU & KEEP STRONG…
Well Done | It's been a tough year but you've achieved so much – more than you probably realise – so if you're reading this, give YOURSELF a pat on the back (whether you've won a trophy or not).
Thank You | For your support, site visits and successes you've shared, throughout the last four years, these have enabled us to give corporate clients hope for solutions to feed those who matter the most to them.
Keep Strong | Rewriting history is not easy, you're carving out a new foodservices path in a new era of catering and foodservices. We just wanted to say that nothing, as far as we're concerned, has gone unnoticed.
Thank you for the catering, the food you're making … for all the joy you're bringing!
Tracey Fairclough | Managing Director & Founder
#foodservices #contractcatering #catering
To all the caterers we engage in 2022: Accent Catering Services | Aramark | ARTIZIAN CATERING | Atalian Servest UK & Ireland | THE BALANCED FOOD COMPANY LTD | BARTLETT MITCHELL LIMITED | BaxterStorey | Bennett Hay | Blue Apple Workplace Catering | THE BLUE STRAWBERRY GROUP LTD | CH&CO | City Dining | Compass Group UK & Ireland | Connect Catering Ltd | Delaware North UK  | Elior UK | Eurest UK | Feastly | Fika Catering | Food by Dish | Fooditude | Four Gables | Gather & Gather | The Genuine Dining Co. | The Good Eating Company | Graysons Green & Fortune | Harrison Catering Services | Houston & Hawkes | ISS A/S | Lexington Catering | Levy Restaurants | Olive Catering Services Limited | PS Catering Management Ltd | Radish Restaurant Associates UK  | Rhubarb Hospitality Collection | NEW Savoir | Searcys | Sodexo UK and Ireland | Talkington Bates Ltd | Thomas Franks Ltd | T"n"S Catering Management Services | Vacherin | Wilson Vale |