UK CONTRACT CATERERS | Weighing The Options in 2023, by Tracey Fairclough
TAFTALKS2023 REPORT
UK Contract Caterers | Weighing The Options 2023
By Tracey Fairclough, Catering Consultant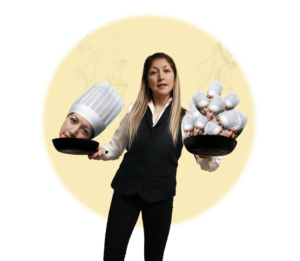 TAF's Report provides details of 50 UK Contract Caterers. Created with industry professionals, corporate facilities, procurement and hr in mind, the report looks at everything from WHAT the contract caterers say they do, WHERE they're based, HOW small or large (and how they benchmark), HOW many employees they report today, HOW they engage customers, WHY they're considered "best practice" (i.e. awards they've won), WHO leads them today and the report even holds the reader's hand all the way to the caterer website. NB. Whilst not the definitive landscape of all caterers, there's nothing as extensive like it.
features of this report
What you need to know about 50 UK workplace contract caterers in 2023.

 

Everything you need to know but don't know who to ask.

A year's worth of research in a 70-page report your business will love.

It saves YOU time, money and resources highlighting "best fit" workplace contract caterers.

There's nothing out there like it.

Written by the freshest, forward-thinking, innovative, app & sustainability savvy UK catering consultancy.

Author is Tracey Fairclough: ACE's One of 50 Most Influential Women in Foodservices, SME NEWS Foodservice MD of the Year & Corporate LiveWire Catering Consultancy of the Year 2022.

 
value of the report
TAF unquestionably engage the greatest bandwidth of contract caterers today to know what best practice looks like to present to corporate facilities, procurement and hr who might not necessarily have time, money or resource to:
(a) assess today's contract caterer landscape,
(b) make more informed decisions about the way they feed their people (through their incumbent caterer) and
(c) adapt, evolve and shape their company's foodservices through the freshest insights and "best fit" catering NOW.
report content
Part A | THE CATERERS are presented in a simple, easy to read single-page caterer profiles with key information enabling easy benchmarking (pages 12 -62) and each profile page leading to a click-on to go to the caterer website. TAF make it as easy as possible to get the reader to a desirable result.
Part B | THE INSIGHTS are benchmarked in simple, easy to compare tables, graphs and charts so the reader gets an all-important a proverbial helicopter view of the best possible contract caterers, for their specific needs, from three perspectives: (1) By Location, (2) By Scale and (3) By Size/Scope.
conclusion
TAF claim their report will be: "the easiest you'll have digested for some time and one of the most valuable sources of the most relevant, reliable, timely contract insights, leading you to understand the potential features/benefits of contract caterers for YOU in 2023.
see a sample of the report:
Sample_TAFTALKS2023_Contract Caterers_Weighing Up Options_REPORT
buy a copy now:
UK Contract Caterers | Weighing The Options 2023

£1,000 plus VAT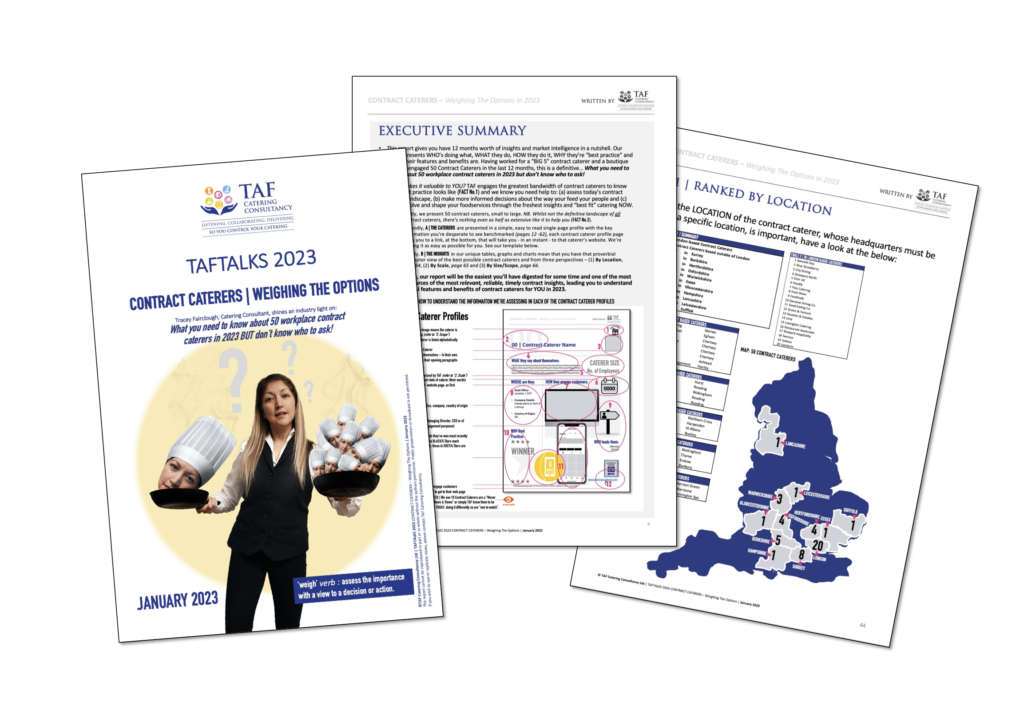 contact:
If you require a presentation of these insights instead or the full report, or would like to set up a meeting to discuss about your specific challenges or simply need the contact details for the companies detailed in our report, we'd be delighted to support you.
Tracey Fairclough | Managing Director & Founder
mobile: 07968 796964 | email: