COVID-19 WORKPLACE FOODSERVICES | CUSTOMER CONFIDENCE
Post Pandemic Food Service Customer Engagement
5 Elements of Workplace Catering Customer Experiences that matter to Employees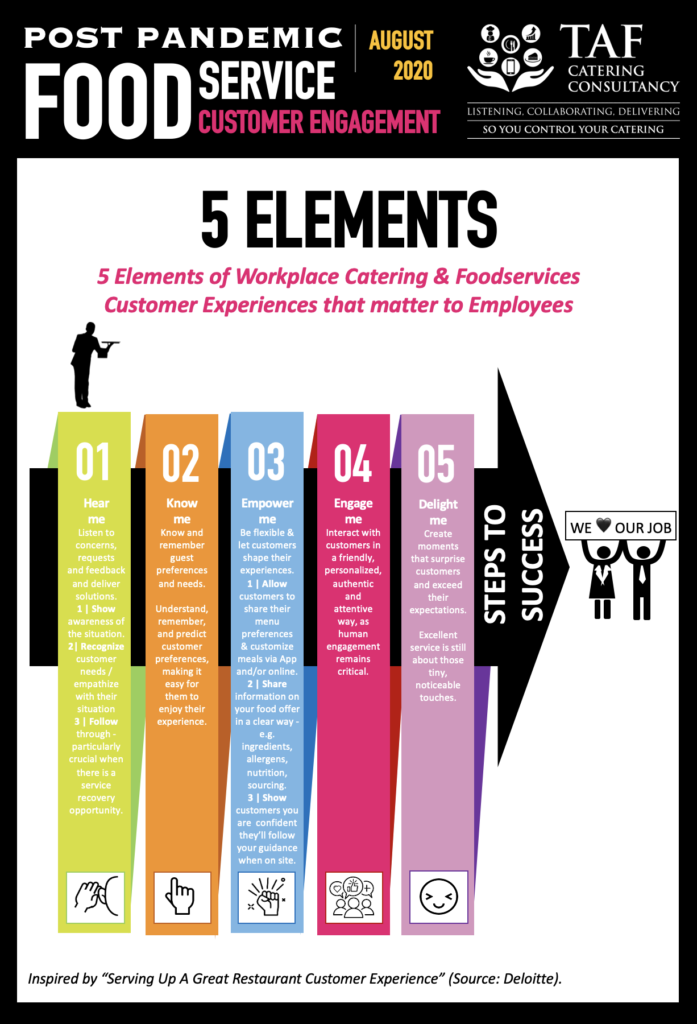 It's been a month since high street hospitality re-opened its doors to customers, cautiously returning to the outlets they know and love. But do they REALLY feel confident?
At the end of July 2020, data research company CGA, in collaboration with UK Hospitality and online platform Yumpingoo, published the results of their "We hear you" Survey, aimed at monitoring customer sentiment when eating out in the "post-lockdown" age.
The results were encouraging, as an overwhelming 94% of consumers who had visited hospitality outlets in England since 4th July were satisfied with safety steps implemented by operators (81% being very likely to recommend a visit to friends and family).
As far as workplaces are concerned, the latest Opinions and Lifestyle Survey by the Office for National Statistics revealed that over 50% of working adults have recently travelled to work, a significant increase from 36% two months ago.
As society ramps back up and a new type of normality settles in, employees – the "consumers" of workplace feeding – are gradually going back to the workplace with a renewed awareness of their rights and their employers' obligations towards them. We are referring mostly to that statutory "duty of care" to ensure, so far as is reasonably practicable, employees' health and safety. Undoubtedly, they will be expecting that same level of care by their caterers.
TYPES OF FOODSERVICES | WHAT CUSTOMERS WANT
What kind of foodservices do customers want?
Based on our experience and the latest market intelligence, we identified the following 5 pivotal aspects:
Safety is non-negotiable: consumers expect the highest standards of health and safety, with spacing and sanitising only the starting points. Good communication of those safety measures is vital, before, during and after customer visits;
All-day service: to accommodate variable/staggered working patterns increased grazing options would help reduce customers' trips to the Staff Restaurant;
Value for Money: according to the latest CGA Future Shock Report 37% of consumers expect a reduction in their disposable income, and therefore will be spending cautiously. As a consequence, menus will have to be designed accordingly;
Technology led, multichannel options: demand for services like click and collect, at-home meal kits and branded retail products is certainly here to stay;
A healthier menu offer focussed on provenance and traceability: nutritious, immune-boosting, natural, tasty food made from local, sustainably sourced and seasonal produce.
WORKPLACE CATERING  | THE CUSTOMER EXPERIENCE
What about the Customer Experience in Workplace Catering?
Foodservices face a compelling challenge: providing service excellence "from a distance" whilst trying to maintain a personal touch. In this respect, Catering Staff are the business's best ambassador, looking after customers, the most important stakeholder.
Team members will undoubtedly be competent and prepared, having undergone site induction, health and safety protocols training, food safety refreshers. Changes to working routines will require a more comprehensive skill set, both from a technical and relational point of view, and a new and improved approach to customer service including relationship management techniques to reinforce the usual "service with a smile" approach.
From an employee point of view, we believe 5 crucial elements shape outstanding workplace catering, expressed below as consumers' demands:
HEAR ME | Demonstrate awareness of the situation and acknowledge customers' needs, empathise with their situation, and follow through. This aspect is particularly crucial in "service recovery opportunities": listen to concerns, requests and feedback and act on them.
KNOW ME | The art of knowing and remembering guest preferences and needs. Understand, remember, and predict preferences, making it easy for customers to enjoy.
EMPOWER ME | Be flexible and let employees shape their own experiences.
Technology is particularly important in this context: an app technology or online platform that allows them to update and share their menu preferences and customise their meals.
Tech also allows caterers to display essential information on the existing food offer and present it to the end user in an easy to understand way – e.g. ingredients, allergen information, nutritional information, sourcing and traceability. Empowerment also means showing customers you are confident they follow your guidance whilst on site.
ENGAGE ME | Interact in a friendly, personalised, authentic and attentive way, as human engagement remains critical.
DELIGHT ME | Create moments that surprise customers and exceed their expectations. Excellent service is still about those tiny, noticeable touches after all. *
Outstanding hospitality must always start with customers, so it is important to truly understand what customers need whilst shaping their confidence in food services being able to deliver a safe, engaging and satisfying experience.
*The above framework was inspired by "Serving Up A Great Restaurant Customer Experience" (Source: Deloitte)
With this said, the corporate client – anticipating their workforce's return  – should be reassured that there is a new breed of contract caterer waiting to hold their hands with an inspirational, can-do attitude and expertise and a flexible approach to shape their world of contract catering post COVID-19, to facilitate both the UK's physical and economic recovery.
If you are a corporate client organisation with a workplace staff restaurant that needs to open again soon and need an overview of what other corporate client organisations are doing right now or what the contract catering market looks like right now, call us!
ALEX MINGONI | Consultant