COVID-19 | Workplace Foodservice – TAF Eat Out To Help Out Benchmark
According to Springboard data (https://www.spring-board.info/news-media/social), the retail analyst, covering hospitality businesses, it was encouraging to hear of reported visits increasing by almost 30 %, at 3pm on Monday 4th August, versus the previous week, with Opentable, the restaurant booking platform, reporting a 10% increase in the number of diners compared with the same day last year.
This month, August 2020, Chancellor Rishi Sunak inventively and commendably launched the "Eat Out To Help Out" incentive to encourage diners to dine out this month at one of 72,000 participating cafes, pubs and restaurants.
By way of an overview of the offer, which appears to have caused some initial confusion: "eat out to help out" offers people of the UK (not on any kind of local lockdown) a discount of up to 50% when eating or drinking (soft drinks) in a participating restaurant or food establishment – Mondays, Tuesdays and Wednesdays throughout August.
With no news from Chancellor Sunak on extending his £500 million scheme… as catering consultants, we wanted to apply best practice from our own "eating out" experiences to 'helping out" workplace catering and foodservices by sharing our Foodservice Firsts – from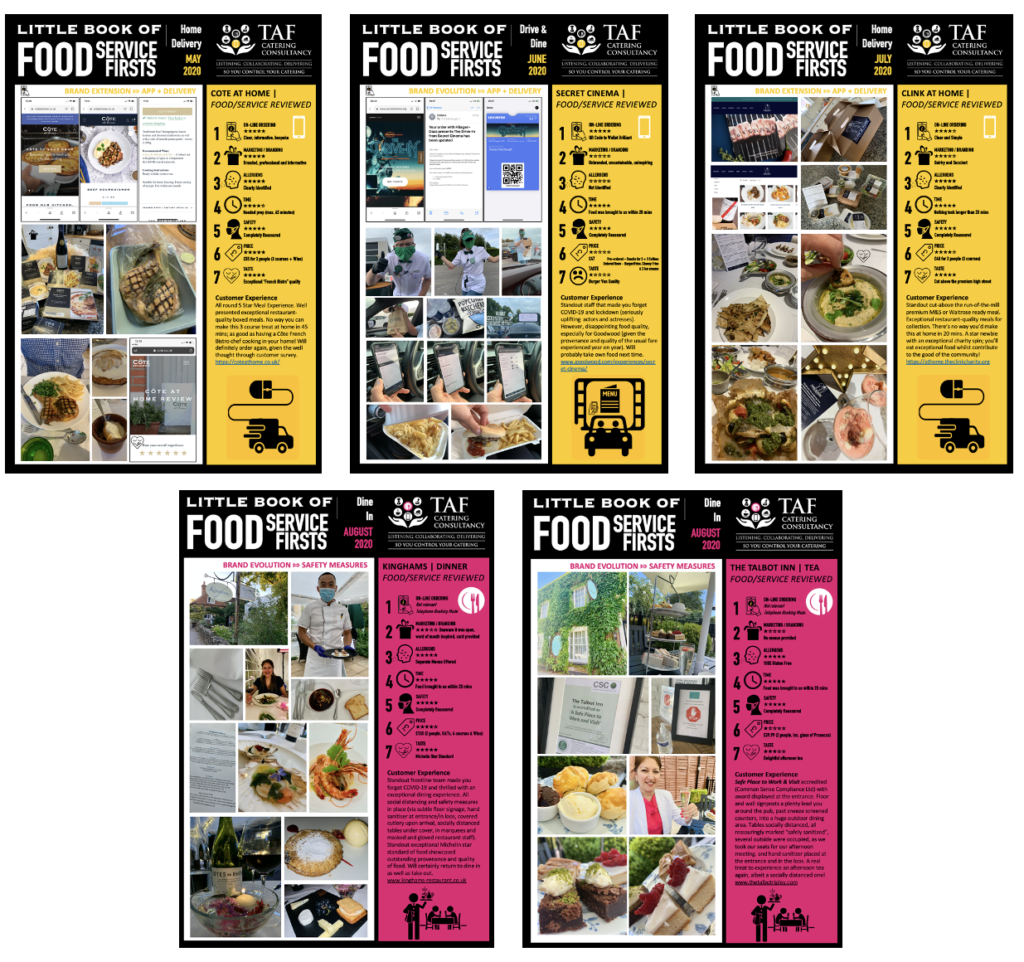 dining in (at home) and dining out (at restaurants) during and post lockdown.
Whilst hospitality is one of the UK's biggest employers and hit hard by lockdown, a survey published last month suggested Britons were still uncomfortable about eating out at a restaurant, sadly something that's since been corroborated by celebrity chefs, such as Tom Kerridge and James Martin, reporting customer "no shows".
In terms of my own confidence as a customer in "eating out" throughout lockdown, irrespective of the "eat out" scheme incentive and undeterred by neigh-sayers, here's my story:
In May, I dined in, at home with high street chain, Côte Restaurants' Cote At Home (Home Delivery).
In June, I trialled Goodwood's Secret Cinema (Drive In) dying to eat food not prepared by anyone in our house.
In July, I dined in, at home with Clink At Home (Home Delivery), supporting the prisoner rehabilitation charity.
In August (to date), I dined out at two local restaurants, neither participants in the "Eat Out" scheme:

Kinghams in Shere, Surrey (for Dinner at their restaurant) and
The Talbot Inn, part of Bespoke Hotels in Ripley, Surrey (for Afternoon Tea at their restaurant).
ADAPTING TO INSTIL CUSTOMER CONFIDENCE
What's been inspiring is how foodservice providers are adapting and evolving:
Extending the Brand / Brand Extensions | Some restauranteurs have evolved quicker by providing takeaway services during lockdown, offering an important extension to the brand, to continue providing foodservices via an alternative channel (i.e. delivery) and using a Central Production Unit or CPU (to make significant labour savings whilst delivering the same quality of food). A very resourceful way of evolving.
Evolving the Brand / Brand Evolution | Some restauranteurs have adapted quickly to reopening with dining-in services post lockdown, engaging customers in surveys, and promoting vital "social distancing" measures to show they've HEARD and KNOW customers like me. This has enabled their core brand to continue. I opted to dine-in locally to support my local community and was EMPOWERED, ENGAGED AND DELIGHTED.
Our Foodservice Firsts demonstrate WHAT type of provider is open and ready for business, WHERE they operate, HOW they inspire confidence and WHY they're the source of inspiration for workplace catering, with the UK economy seeking to repair itself. Important to take stock of the word 'Restaurant' which derives from the French verb "restaurer", meaning to restore!
Irrespective of money off incentive, the above experiences have given me every reason to believe there are ways and means to inspire foodservices to cater to restore employees in the workplace. What do YOU think?
If you're a corporate client organisation with a workplace staff restaurant that needs to open again soon and need some fresh, forward-thinking, app-savvy, sustainability-focused support on best practice from the high street, like this, or to project manage any other catering consultancy needs, email our Managing Director, Tracey Fairclough, today ">.
To see the detail in the Foodservice Firsts, please refer to our article featured in Hospitality and Catering News by CLICKING HERE NOW: https://www.hospitalityandcateringnews.com/2020/08/dining-shared-experience-review/
#workplace #contractcatering #contractcaterers #returntowork #foodservices #foodservice #workplacecatering #facilitiesmanagement