Judging Industry Awards | A Catering Consultant's Account

So here I am, last day of March 2022; reflecting on everything I've absorbed and learned in the last three months, being a post-pandemic judge for an awards event designed to spotlight our glorious contract catering industry (despite being battered and beaten by COVID-19).
Whilst the actual reading and judging of submissions took place weeks ago, the glittering and glamorous awards dinner in Central London, took place earlier this week; an evening 100% focused on celebrating, toasting and rewarding the "crème de la crème" of British foodservice.
I was so overwhelmed with the calibre of candidates and phenomenal innovation that I wanted to share my experiences here to incentivise more candidates; given there are so many contract catering professionals, equally as deserving, who may think about giving it a go and submitting.
Why? Entering for an Award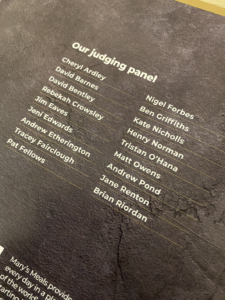 From my perspective, an award-winner myself, industry awards are reassuring validation and recognition that you, your department and/or your business is delivering a "best practice" approach, as a pioneer, an inventor and a leader.
From writing a submission to winning an award, awards: boost staff morale, improve motivation, recognise contribution, reward hard work, deliver standout results, improve perception/reputation and be great for business; as a finalist but more if you WIN.
Stage 1 | Reading the Submissions
Firstly, having read every submission at my leisure, of the categories I was a judge, I found myself astonished with achievements, efforts and level of detail around words, sentences, paragraphs, pages, photos, presentations, references and videos.
Secondly, I was acutely aware some submissions appeared written by the caterer, despite the caterer's significantly depleted resources (time/resource); whilst others appeared written by well-oiled award-writing agencies creating perfect PR stories.
Thirdly, what was crystal clear is that ALL candidates, without exception, were worthy of a stand-up and shout out at the awards and a clap and a cheer from everyone, given the HUGELY challenging times and need for pioneering innovation to "carry on catering".
Stage 2 | Judging the Candidates
So, this is where you, as a judge, listen, collaborate and deliver verdicts based on the shared experiences and collective industry knowledge of the other panel judges and this is what I have to share to educate, inform and inspire others to give it a go:
Best foot forward | Make your best points first, backing claims with evidence.
Storytelling | Write a clear narrative story, outline intentions, facts and figures.
Make it real | Use real examples to bring to life; evidence-based improvements.
Answer questions | Read the criteria to answer questions; sticking to word counts.
Support material | Choose the best, most evocative statistics, images, testimonials.
Think like a judge | Put yourself in judge shoes prior submission, for an easy read.
Benefits/results | List benefit/result outcomes; winners show a true work value.
Shared learning | Show how results can be replicated across the business.
Formatting | Ensure supplemental information looks good when converted to a PDF.
Do yourself/your entry justice | Include all key facts, benefits and positives.
Accuracy | Poor grammar/spelling does not sit well with judges (attention to detail).
Teamwork | Don't avoid a team effort; colleagues have (healthy) different views.
Shout achievements | Put across passion and pride in your entry.
Avoid jargon | Judges are not all from a health service finance.
Persistence | There's always scope to refine previous entries.
If the nominations are focused on winning submissions, then you're almost certainly, in my experience, reading about winning people and/companies focused on 7 traits:
Relatable| They're honest and make emotional connections via their stories.
People-focused| They actually care, are objective, realistic, and inclusive.
Inspirational| They use industry knowledge/insights to deliver something special.
Innovative| They're working smarter/faster, doing something new & unique.
Reflective| They reflect on actions to measure, understand, tweak, adapt.
Energetic| They use their own energy/enthusiasm to carry you on a journey.
Altruistic | They naturally care about someone/something; with no egos in sight.
Stage 3 | Attending the Ceremony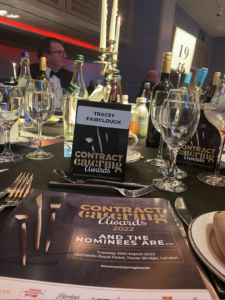 There's so much amazing work that has evolved out of the pandemic and to be able to play a part in awarding those who stand out, as a judge, is wonderful.
It was a very tough awards to judge, with super strong competition making the decision-making process all the more challenging.
However, as we'd engaged over 44 contract caterers, throughout lockdown; we were already familiar with how the caterers had actually innovated their way through the pandemic, having journeyed c.10,000 miles to see how they do it for themselves.
For me, it takes great courage and character to think differently, carve a path on uneven terrain and head out into unknown territory, thus the need to celebrate those who lead by example, set the bar higher and deliver over and above good and better, but "best practice".
I would not be where I am today if it weren't for the feedback of others –
consultants, caterers, colleagues and bosses – thus I wanted to share my thoughts with you…
in the hope you submit in future!
Best of Luck
Tracey Fairclough | Managing Director (pictured with another judge, Jeni Edwards)