HRC & IFE Foodservice Shows 2022: TAF's Key Takeaways
On Tuesday TAF Catering Consultancy attended the Hotel, Restaurant & Catering Show at Excel, co-located this year with the International, Food & Drink Event (IFE), IFE Manufacturing & the London Produce Show – creating one of the biggest foodservice innovation spaces to date.
Here are TAF's TOP 10 show take-aways, according to Consultant Alex Mingoni: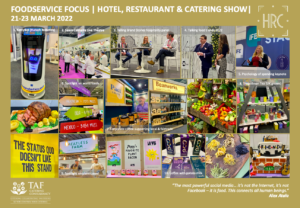 1 | Front of House Delivery Robots | Developed by Hutech Robotics and launched in the UK around 12 months ago. The welcome has been cautious, given hospitality is a traditionally "people-centric" industry, but robotics could potentially enhance catering operations, giving staff the opportunity to focus on customer service. Product features: AI voice interaction (in several languages), multiple delivery modes (multi-table, cruise, birthday), laser & visual navigation, customisable branding and built-in advertising screens.
2 | International Salon Culinaire | One of the world's top chef competitions for over a century and a fantastic platform for chefs at all levels – from culinary students to well established professionals – it is always very inspiring to watch, as it showcases the fantastic and exciting gastronomic skills the UK hospitality industry has to offer. In addition to the live competitions this year, a fantastic sugarcraft section including showpieces, floral arrangements, wedding cakes, novelty cakes.
3 | Telling Brand Stories Panel | Hosted by brand strategist Dan Nash, Dishoom's Creative Director Sara Stark & Mission Mars's Marketing Manager Jack Edge shared their company approach to storytelling as a way to increase brand awareness and effectively engage customers. Different experiences, one clear takeaway: customers choose certain foodservice brands over others not only because of the food quality they showcase, but because of an emotional connection with the brand's journey: at the end of the day, it's all about "humans trying to attract humans".
4 | Future Food Trend Tracker 2022 | Charles Banks (The Food People) and Kelly Dowson (Food Innovation Solutions) analysed the evolution of 3 key food trends 2020 – 2022: plant-based, sustainability & cuisine trends. Two key takeaways: (1) the most successful food brands are those appealing to "committed flexitarians", meat-eaters consciously reducing their animal protein intake and (2) the best product development opportunities in the plant-based space are found in the vegan cheese market and the use of authentic ingredients rather than lab-developed formulas.
5 | "Psychology of Spending" with Karen Fewell | Owner of the well-known foodservice marketing consultancy Digital Blonde, Karen has recently mastered in consumer psychology. Her engaging keynote speech offered some interesting insight as to how and why consumers make their choices when purchasing food. Interestingly, 95% of purchasing decision are driven by emotions rather than rationality. To put it simply, consumers "buy a feeling", e.g. being the perfect host, nostalgia for past positive memories, pride in serving great quality food, feelings of joy and adoration.
6 | International Cuisines | The primary focus of IFE, there is no better year to showcase the best international food & drink suppliers, given the increasing consumer interest in dishes they cannot easily make at home, especially post-pandemic. An inspiring journey through world food cultures, from nearby European countries to Turkey, US, Canada and Thailand, just to name a few.
7 | Coffee | TAF met with two coffee suppliers with compelling brand stories to tell: David Blair, owner of Northamptonshire based Beanworks – in the process of developing their own speciality coffee range – and the business development team at Pact Coffee, supporting coffee farmers worldwide by paying them "premium prices for premium coffee". Both businesses collaborate with contract caterers and supply coffee and top of the range equipment (bean to cup and traditional coffee machines) to the B&I market.
8 | Tregothnan Tea | Tregothnan are the first-ever English tea company to have created a range of black tea, green tea & herbal infusions homegrown on British soil. They position themselves as a luxury tea brand and a small, speciality player within the global tea market. The business relies on a flourishing B2C online retail trade and also supplies contract caterers & corporate clients directly. Sourcing British tea could make for a fantastic sustainability story as well as a very effective way to reduce food miles and support local producers, in line with today's consumer preferences.
9 | Plant-based Foods | With sales of plant-based foods in the UK reaching £598 million in 2021, consumers are increasingly discerning when it comes to the quality of the meat substitutes they purchase and look for exceptional taste and concise ingredients lists. During the show, TAF sampled delicious plant-based proteins from market leading, Mediterranean inspired brand Heura Foods, UK based Meatless Farm and award-winning start-up LA VIE. They all share a common purpose: producing great food that is good for the planet.
10 | Potato Milk | Potato milk is an up-and-coming milk alternative, increasing in popularity due to the low environmental impact of growing the crop and its wide availability. In addition, it's been considered one of the top food trends for both 2021 and 2022. TAF's verdict on DUG's potato milk: whilst it does have a very distinctive taste when enjoyed cold, it actually steams very well and gives foam a silky texture that enhances the flavour of coffee. Definitely worth trying!
After such an inspiring line up, TAF are definitely even more motivated to promote foodservice excellence across the industry!
Alex Mingoni | Consultant
If you are interested in the latest foodservice trends or would like more information about the foodservice operators discussed in the article, do not hesitate to contact me on: