Natasha's Law comes into force today: is your business ready?
According to a recent statistic presented at Lunch! 2021 by research and insights company IGD, post-pandemic consumers expect food-to-go retailers to offer a wider range of gluten free and vegan options.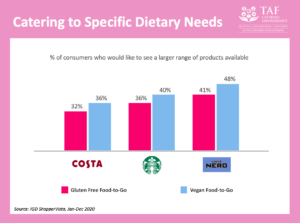 With Natasha's Law coming into force in the UK today, catering effectively for specific dietary requirements especially around allergies has never been more important: the legislation will in fact enable consumers to make safer, informed choices on what they buy and eat.
The legal requirement: all food that is prepared and packed on the same premises from which it's sold  (i.e. pre-packed for direct sale, PPDS) will have to display a label with a full ingredients list, including the 14 allergens.
Is your catering business or workplace restaurant "Natasha's Law ready"?
Consultant Alex Mingoni (an allergy sufferer herself) advises on the 4 key elements to look out for in foodservices:
Supplier Information: accurate, clear supplier information on allergens managed effectively across the supply chain (especially for potential product swaps);
Management: a robust allergen management and labelling system in place (preferably tech-based, to avoid human error);
Training: teams trained on the implications of the new legislation and on how to communicate allergens to customers effectively and
Support: regular access to FSA tools and advice and an ongoing dialogue with your company food safety specialist.
To find out more about the progress made in the UK to prevent and end allergic disease since 2016, visit the Natasha Allergy Research Foundation website: https://www.narf.org.uk.