TAF Catering Consultancy Talk About Taking To The Road post-COVID-19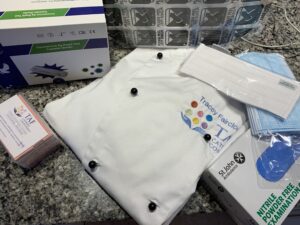 What a month February 2021 has been, with TAF taking to the road to support a nationwide essential service provider; whose employees have tirelessly been putting one foot in front of each other and every day for the last year, to serve the nation.
Proud of the appointment, TAF has – without doubt – experienced some challenges. A road trip and a series of site visits, in post COVID-19 times, is something quite different, to what it might have been this time before. Having been, like most people, confined to the safety and security of our own homes, protection of mind and body were key.
For this reason, we armed ourselves with the right kind of kit to protect ourselves, our team and our client(s); COVID-19 lateral flow tests, masks, gloves, visors, the appropriate protective clothing and a whole lot of positive mental attitude.
So, with this short post, our advice – with the roadmap for lifting lockdown setting out stage two (no earlier than 12 April) for shops, restaurants and pub gardens to serve customers sitting outdoors – we ask you to remember to be kind to yourselves when setting foot back out in the big wide world – it can be daunting, but with the right protective measures and positive mental attitude… anything is possible, as we step back out into, what is clearly, a changed post COVID-19 world.
Look forward to seeing you on the other side!