A New Breed of Collaborative Catering Consultancy Post-Covid: Preparing for Hospitality Reopening Today
The day has finally come where restaurants and pubs are allowed to reopen their doors in England and Wales, as Covid rules are easing across the UK.
TAF Catering Consultancy has worked tirelessly, behind the scenes, to support clients, and have prepared 8 staff restaurants in reopening to a brighter, safer world post Covid.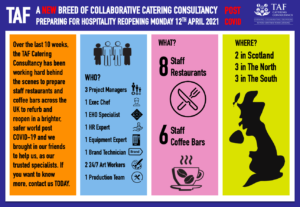 It was a full-on ten weeks collaborating with our 9-strong team of project managers: an executive chef, a food safety expert, a HR expert, a brand technician, 24/7 art workers, a production and installation team and an equipment specialist. We reached out to all the lovely men and women in our network and we are proud to have had them on board. This makes us trust more than ever: 
"Never doubt that a small group of thoughtful committed individuals can change the world. In fact, it's the only thing that ever has." (Margaret Mead)
Here's to a more engaged post pandemic world of hospitality!
If you need some support to help shape your future dining prospects, please do reach out to us – we've a team of merry men and women ready to nurture you across your starting line.
TAF wishes all the best to the venues reopening this week.
#contractcatering #foodservices #hospitality #events #workplacecatering #projectteam #projectmanagement#facilitiesmanagement #UKreopening