TAF's Trade Show Season Starting on a High: Lunch! 2021
On Thursday TAF Catering Consultancy attend Lunch! – the definitive event for the café, coffee shop and food-to-go sector. Visiting Excel for the first time in nearly two years was almost emotional and something we were really looking forward to.
Despite the changes brought about by the pandemic – with visitors required to show proof of their vaccination status or a negative Covid test before entering – it was great to see the foodservice sector come together again, with traders very keen to showcase their fantastic products and services.
Here's the show highlights, according to Consultant Alex Mingoni.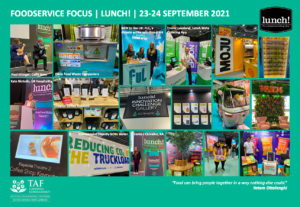 KEYNOTE SPEAKERS
1 | Paul Ettinger (Caffe Nero) | After reflecting on how the business has evolved its offer and strategy over time, the Business Development Director offered his expert advice around 3 Key Elements to consider when opening an independent coffee shop:
Location, location, location: getting the location right in terms of how the business would fit within the local community is vital;
USP: "walking the streets" to assess what the competition is doing, what is popular with customers and what their needs and priorities are, to help establish what your own point of difference is (whilst ensuring consumer preferences are met);
Local Quality: speciality coffee is a must, as well as having a network of local suppliers to tap into to produce unique, sustainability friendly F&B with a story to tell.
2 | Kate Nicholls (UK Hospitality) | The UK Hospitality Chief Executive summarised how the organisation has worked with the government to ensure hospitality businesses were able to survive the "black swan" of Covid and outlined how they are now collaborating to implement a future strategy for the sector, to facilitate recovery and dodge the "grey rhinoceros" of uncertainty, debt and still fluctuating consumer confidence.
3 | Sonia L. Carvalho (Restaurant Associates) | RA's Head of Coffee and Communities shared insight on how to craft the perfect coffee offer, elaborating on 3 Key Elements:
Product: a dynamic coffee offer that changes often and meets client and customer evolving needs in terms of quality and value;
People: empowering and educating catering teams by teaching them how to craft the perfect cup of coffee and the story/science behind what they serve, as they are ultimately responsible for delivering a fantastic customer experience and drive sales;
Purpose: a coffee offer with a positive social and environmental impact, especially in light of the current focus on "net zero strategies" and increased customer awareness around the ethical credentials of coffee brands.
BUSINESS FOUNDERS
It was an absolute pleasure to take the time to talk to three business owners to understand their journey and why they believe they have what it takes to succeed.
1 | Sara Guaglio (FUL, Natural Superfood Drinks) | Originally from Italy, Sara is the co-founder of Netherlands-based food tech start-up FUL, producing all natural, spirulina-based drinks. The business was founded by three women with the ambition to create a "climate active" product with virtually no impact on the planet – that is why they chose a microalga as their core ingredient.
The product has lunched in the UK over the summer, to cater for the health-conscious British consumer. (website: fulsuperfood.com)
2 | Trevor Loveland (LunchMate Ordering App) | Born out of his frustration with lunchtime queues, Trevor has been working on pre-ordering app LunchMate in his spare time for several years before launching between 2020 and 2021 (the pandemic having affected his business development activities).
Standout App features:
Lunchmule – allowing users to nominate a single person to pick up multiple food orders and
Ticket Management – orders are sent to production based on preparation and collection times, to avoid tickets piling up and potentially being lost. (website: lunchmate.co.uk)
3 | Vinny de Olivera (Chapter Coffee Roasters) | The only independent coffee roaster at the show this year, Vinny is originally from Brazil where his family owns a coffee farm. He co-founded the West Kensington Roastery in 2014, initially utilising coffee beans from his own farm. Chapter now sources beans and works directly with trade farmers and co-operatives across the world, to ensure their supply chain is as short as possible and the producers they collaborate with are paid fairly. Chapter also creates custom blends and offers white label packaging to both retailers and contract caterers. (website: www.chaptercoffee.com)
ON A CLOSING NOTE… TAF's Key Takeaways from Lunch!
1 | Planet: sustainability was by all means the buzz word of the day. It was great to see that especially in the drinks category more and more brands focus on how to reduce their social and environmental impact, especially when it comes to packaging. A good example is water brand NOBL Water: planting a tree for every case sold, donating 1% of their annual turnover to causes that help the planet and 5% of their profits to charity.
2 | Progress: a trend TAF already sees in the contract catering market segment, digitalisation will expand and evolve further in retail catering. Besides the now ubiquitous pre-order/pre-pay App technology, digital loyalty will also play an important part in the future of the sector, as businesses understand the importance of gathering customer data to best understand preferences, spending patterns and behaviours and create more bespoke "reasons to visit".
3 | People: consumer preferences are the ultimate driver of food trends, and from what we've seen yesterday it is clear that the food and beverage industry has fully embraced the shift towards healthier food choices that cater for every dietary requirement, especially around vegan and gluten free. In addition, storytelling plays more than ever a central role in customer choices, especially when it comes to their attention to sustainability and provenance.
Start with the customer, delight with your product, engage with your story and deliver on your promise: this is the key to brand success in foodservices.
Alex Mingoni | Consultant
If you are interested in the latest trends in foodservices or need support for your future foodservice strategy, contact me directly at: