Weathering The Storm (A Catering Consultant's Story)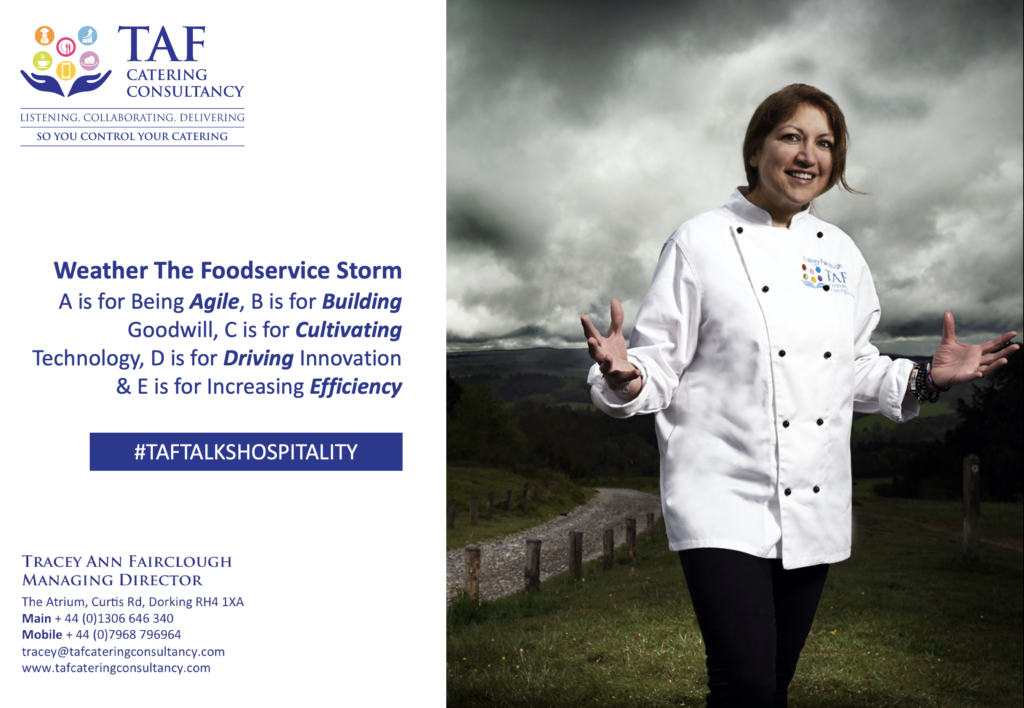 Whilst Boris Johnson last night confirmed a four-week delay to the lifting of all restrictions in England beyond 21 June, the new date for lifting the restrictions now set for 19 July, the worlds of Facilities, Contract Catering, Foodservices and Hospitality should not lose hope.
Yes the UK hospitality does face a jobs crisis, in the aftermath of the typhoon coronavirus pandemic; but the reason hospitality will pick up is because drastic times call for drastic measures and change is happening. 
Staff Challenges
Restaurant group Hawksmoor and a whole plethora of pubs, bars and restaurants last month publicly offered bonuses of up to £2,000 to workers recommending friends for jobs to fill staffing shortages. Coming from the restaurant group who (pre-Covid-19) presented the blueprint for city dining, this should have been extremely worrying for corporates trading in the square mile, running staff restaurants (for employees), especially with growing optimism in the long term outlook of the UK economy, with the vaccination programme continuing at pace.
If city diners returning to work can't step back out on the high street, where will big business entertain employees, peers or high spending clients? These chains' problems underline the wider staffing crunch facing hospitality, which means workplace catering and staff restaurants will be affected.
With hospitality staff having been paid by Furlough yet having either returned to their home countries or turned to other vocations (such as retail, care sector and even painting and decorating), the hospitality labour force has shrunk. With our beloved hospitality sector head in hands, am I over-simplifying things in believing food will help rebuild the UK economy?
Buckling Down
Our catering consultancy has continually been called upon to advise those in Business and industry this year, to date – the biggest energy, law, accountancy, technology and property firms in the UK – who, despite all odds, appear to be weathering the storm well, buckling down and digging deep. We've also consistently engaged circa. 40 caterers since this time last year; whose raison d'etre, pre pandemic, was (and still is) to feed those who worked for global organisations nationwide.
Today, in light of last night's extension to restrictions lifting, we appeal to all global corporates: those in Facilities, Contract Catering, Foodservices and Hospitality require so much more than waiting to see what others are doing. Corporates must invest in the future of our hospitality sector now. 
With the UK's GDP, namely the value of everything produced in the economy, almost 10% down in 2020 compared with 2019 (Capital Economics, February 2021), it's been a bad year for the UK economy, with severe restrictions imposed as a result of Covid-19; it will be even worse if we can't refuel our economy and flex back up again. This, an economy reliant on consumer spending on hospitality in the form of hotels, restaurants, leisure, corporate catering and foodservices, all badly hit by lockdowns.
All signs point to long-lasting struggles from the pandemic, so corporates need to buckle in to weather the storm and follow a different path towards an unknown landscape.
Five Point Plan
Our five-point plan calls for corporates to consider the 5 R's (reflect, research, refocus, regroup and reimagine) to weather the storm and thrive on the other side (as we are doing). This is our formula for success for anyone:
A is for Being Agile | With everyday routines disrupted, businesses need to be more agile and transitional. Staff restaurants and high street restaurants simply can't run "business as usual" – they're not even there today. There is a need to be flexible operationally, processes, procurement, services and commercials, pivoting to cater to customers differently. Asking what your stakeholders need for the business to thrive first, then ask customers want will it take to get them back to the office (albeit 3 days per week), collaborating first then delivering them with a solution of value to them.
B is for Building Goodwill | You may think you're not financially able to give away profit, so think of it as investing in rebuilding the culture of your company and, ultimately, the economy. Re-focus on personalisation of relationships with those who work for you. Show empathy, give away free (issue) food. Use the traditional staff restaurant "hubs" to rebuild your corporate culture. If you build it, they will come. Times have been tough, if you have it good, you're one of the lucky ones, so collaborate with those around you (the caterers). As a small business, we were approached by a big essential services provider and helped them transition 8 staff restaurants over 10 weeks in April 2021 for a more engaged level of service. We could have done it ourselves but reinvested in those in our community – brand specialists, artworkers, production/installation team, food safety/HR specialist, executive chef, equipment specialist, PR guru, legal eagle, photographer, our own project team. Give back to your community by engaging with it.
C is for Cultivating Technology | With everyone socially distanced from employers, technology and dining (techdine) solutions such as micro-markets have started to carve out an alternative foodservice path. Businesses need to adapt, using technology to feed their people. If you don't do it, they may end up leaving for someone else. Many new techdine solutions are low cost (by comparison to contract catering operations pre-pandemic). They're already having a phenomenal impact in providing smart, fresh food, cashless, convenient, safer customer workplace experiences across Europe, Asia and America. The UK, we're staggering around by comparison. My company has been supporting a catering tender and found a whopping 17 contenders for a fully managed, 24/7 self-serve retail area, focusing on SMART delivery of energy and immune boosting meals. Corporates need flexible agile solutions, with technology delivering a different kind of hospitality to fewer people in the office, over fewer days of the week.
D is for Driving Innovation | Whilst it may seem daunting, it's important to look in front not behind. If you're forward focused, you won't trip. Now is not the time to keeping doing what you did before, even versions of it. New landscapes call for new visions. Find innovative solutions and break out of the mould, do things differently and memorably to resonate with your disengaged employee base, the people you need to feed every day (who've changed as a result of the pandemic).
E is for Increasing Efficiency | During economic uncertainty, businesses need to eliminate non-essential spending, looking for ways to streamline processes, automate and increase efficiencies. Even small decreases can lead to major cost savings and improved customer experiences. Think small changes, BIG impact. Some workplace caterers streamlined labour to work from central production units (CPUs) to provide workplace catering service to corporates – cleverly combining skills and expertise to greatly reduce labour costs and create a more efficient work environment. Evolving your business plan around these increased efficiencies is key to your recovery.
Drastic Measures
The current economic downturn is challenging for all of business and industry. Adapt and listen to the people you need to feed every day (stakeholders and employees) and invest in the way you feed them, which means the hospitality industry itself – those who are fighting fires. With the high street, and restauranteurs like Hawksmoor, struggling to ramp up with finding good chefs, don't underestimate the power (and ingenuity) of workplace caterers today – we've engaged 40 to know – and invest in hospitality.
From a small (but growing) catering consultancy, we've weathered the storm being agile, building goodwill, being tech-savvy, driving innovation and focusing on increased efficiency. If we can weather the storm, our corporate clients can weather the storm, then so can you; carving a path to recovery for the UK economy. As I said, drastic times call for drastic measures.
Once again, here's to a whole new world of foodservices post COVID-19!
TRACEY FAIRCLOUGH | Consultant & Managing Director
#workplace #contractcatering #contractcaterers #returntowork #foodservices #foodservice #workplacecatering #facilitiesmanagement
ABOUT TAF
TAF Catering Consultancy appears to have pivoted better than any other catering consultancy in the aftermath of the pandemic in 2020, with continuous back to back catering consultancy projects since January 2021.
After the UK went into a 1st lockdown on 23rd March 2020, whilst on Furlough, we reached out to our network, as the dark Covid-19 typhoon wreaked havoc on our world – consultants, clients, caterers, associates (family and friends).
As we put our thoughts out, at a time when few did, we were approached by the catering press, writing eight articles for Hospitality & Catering News and featuring in two editions of Facilitate Magazine.
Our social media rocketed with posts generating circa. 4000 impressions, 6% engagement rate, and click-throughs of over 160. We read and followed with hunger and interest all of those caterers around us, to see what was occurring.
In September 2020, we bought a MINTEL Report and dissected in our own thought leadership industry TAFTALKS report we shared FREE with corporates and caterers, with our view of hospitality; it became much talked-about industry insight.
On 21st October 2020, we ran what appears to have been the only face to face (post March2020) conference for the global  corporates we knew, respecting and applying (accredited) lateral flow testing, at The Dorchester, Coworth Park (Ascot).
In January 2021, we completed provocative "options" considerations documents engaging two nationwide corporate clients. From February to April 2021, we covered 4,600 miles of the UK to complete a 10-week nationwide mobilisation project (rebranding 8 staff restaurants) for an essential services provider, opening on 12th April 2021. Today, we're mid catering tender for a property client, looking at SMART TechDine solutions.
So, here we are, June 2021, the landscape of contract catering and hospitality preparing a later return-to-work strategy and we're best placed to offer a unique blend of foodservice advice around bespoke catering and foodservices, a "fresh" perspective and 100% independent pairs of eyes and ears.
We've a proven track record, with just 2 years and 8 months behind us, completing catering consultancy projects for 15 global corporates and we start every project with stakeholders, then customers and make a business case for each project.
Based on our results, we're seen by clients as a fresh, forward-thinking, innovative, app savvy and sustainability-focused catering consultancy … and have the client testimonials to prove it!
We started the new financial year with an even better outlook than ever before, which is why we wanted to share our formula for success in this article entitled "Weathering the Storm"!