ACE Fifty Inspiring Women in Foodservice Celebrated on International Women's Day 2022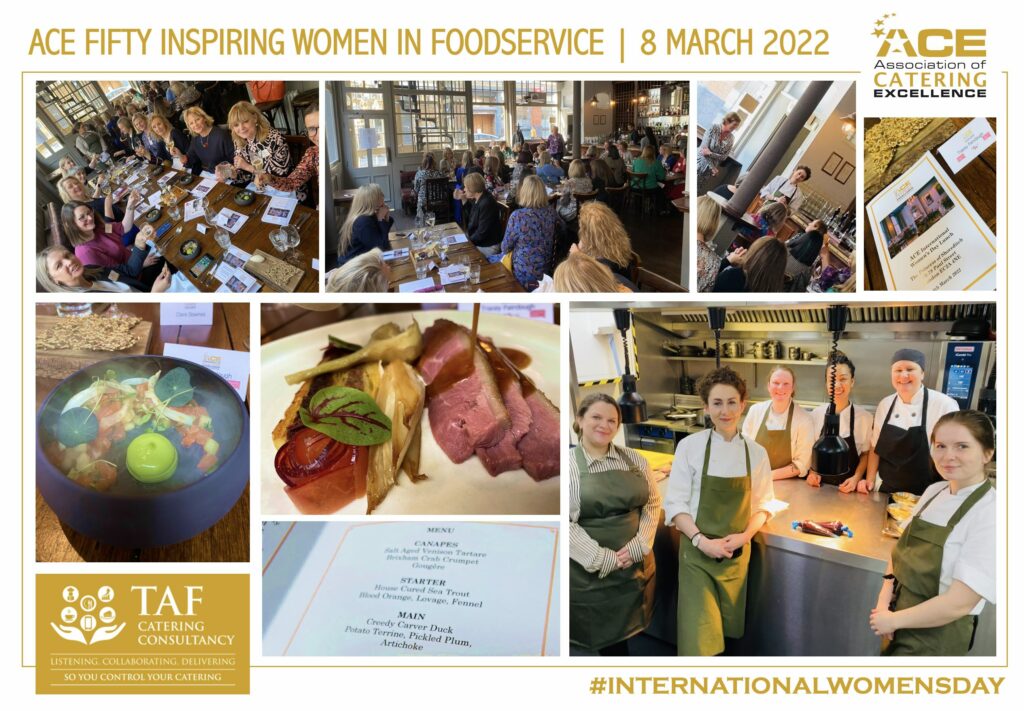 The Association of Catering Excellence (ACE) today hosted a lunch at the Princess of Shoreditch in London, for the 50 inspiring women in the foodservice industry, to celebrate International Women's Day (IWD).
Tracey Fairclough, TAF's Managing Director, said: "Today was a wonderful way to celebrate International Women's Day, catering provided by the super talented chef Ruth Hansom and her amazingly talented culinary team.
The Association of Catering Excellence brought together some of the amazingly talented women in hospitality who've inspired over the last ten years and will, no doubt, play a significant role in shaping a whole new world of post-pandemic hospitality. I was humbled and proud to have been included on the list of "one of the most inspiring females in foodservices 2022".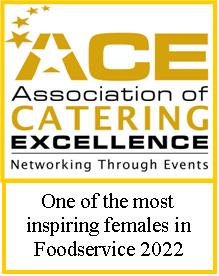 Today's post pandemic lunch was about raising money for industry charity Hospitality Action, with the menu created by head chef and ACE patron Ruth Hansom, who said: "I'm proud to be Patron of ACE and feel organisations like this have a vital role to play in supporting the industry as we work through these challenging times. Collaboration and networking is key in the face of adversity and there's no doubt this event will be truly inspirational."
Sarah Prentice, chairman elect of ACE, said: "I am delighted that in this section of hospitality women play such a prominent role and we are at our highest level ever in the history of the society, which started in 1935 as the Industrial Catering Association. I am proud to be the third female in succession taking on the role of ACE Chair."
50 Inspiring Women
ACE's selection criteria included:
impact on the industry,
support to ACE and the industry (during Covid-19) and
career achievements and peer recognition.
The below guests were selected by the ACE board.
Bee Armstrong, Genuine Dining Company
Wendy Bartlett, Bartlett Mitchell
Suzie Boyd, Troika
Niccola Boyd Stevenson, Panache Consultancy
Fiona Boyd-Thorpe, Boyd Thorpe Consultancy
Gaye Bullard, Aramark
Sarah Burgess, KFF
Jessica Clark, BaxterStorey
Linda Cregan, ISS
Lin Dickens, Bartlett Mitchell
Clare Downes, Enhance
Jane Dyer, Stern Consultancy
Jeni Edwards, IJEss Consulting
Ann Elliot, Ann Elliot Hospitality
Tracey Fairclough, TAF Catering Consultancy
Karen Fewell, Digital Blonde
Mary Jane Flanagan, MJ Inspire
Kerry Ford, Chartwells
Morag Freathy, Eurest
Caroline Fry, Thomas Franks
Rebecca Harris, Green & Fortune
Jules Heckman Hughes, Smart Group
Deborah Homshaw, CH&Co
Lisa Jenkins, The Caterer
Lucy Knowles, Holroyd Howe
Sarah Jayne Law, KFF
Sharon Linney, Vacherin
Gemma Lynch, Sodexo
Natalie Mainwaring, BaxterStorey
Sarah Miller, BaxterStorey
Helen Milligan-Smith, Aramark
Danielle Mitchell, Genuine Dining Company
Debra Morrell, Bidfood
Kate Nicholls, UKHospitality
Jules Ogier, Troika
Simona Oproiu, Graysons
Sarah Prentice, Blue Apple
Penny Richards, Caterlink
Diane Rollinson, CH&Co
Jane Sanderson, the Clink
Sara Senior, Restaurant Associates
Wendy Sutherland, consultant
Sue Thompson, Restaurant Associates
Katy Thompson, CH&Co
Jenny Walklate, Enhance
Zoe Watts, Bennett Hay
Jill Whittaker, HIT Training
Janet Wigley, Aramark
Emma Williams, Green and Fortune
Louise Willis, LWPA Solutions
#IWD2022 #internationalwomensday2022 #foodservices #hospitality #womeninhospitality #womeninfodservuces #goodtobeback#backtowork #newnormal #lockdown #lovemyjob #returntowork #motivation #backtonormal #london