Charity Begins with a 'C'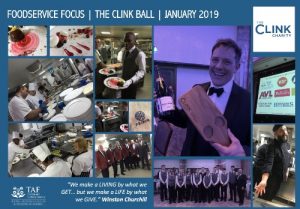 Hard to believe only 2 weeks ago, TAF sponsored our 1st charity event for The Clink Charity. What a fantastic showcase of amazing food & service delivered by the bright shinning grads from Westminster Kingsway College, THE CLINK RESTAURANT COMPANY LIMITED, Centrepoint and the team at the Royal Lancaster London – cooking and serving 350 guests. Hosted by Matt Tebbutt of Saturday Kitchen, we helped raise £35,000 on the night. A very proud collaboration!
Keep up-to-date with news of The Clink Charity, sign up to receive their newsletter & visit them for lunch at Brixton, High Down, Cardiff and Styal Restaurants (or their café in Manchester). Book your table here.