COVID-19 | FOODSERVICE THE NEW NORMAL
On Sunday 10th May 2020, Boris Johnson offered hope to #ukhospitality outlining the COVID alert level plan and signalling a return to work. I wrote "Foodservice The New Normal" to support UK foodservices in the workplace beyond COVID-19.
CLICK here for the article: https://www.hospitalityandcateringnews.com/2020/05/foodservice-the-new-normal/
As Boris sought to inspire the British Public against the invisible killer, he said: "We will come back to health. The UK will be changed , more resilient, innovative, more economically dynamic, more generous and sharing."
Here are our ten key considerations to review when designing future staff restaurants to create the 'new normal', based on the latest assessments of Covid-19 market intelligence.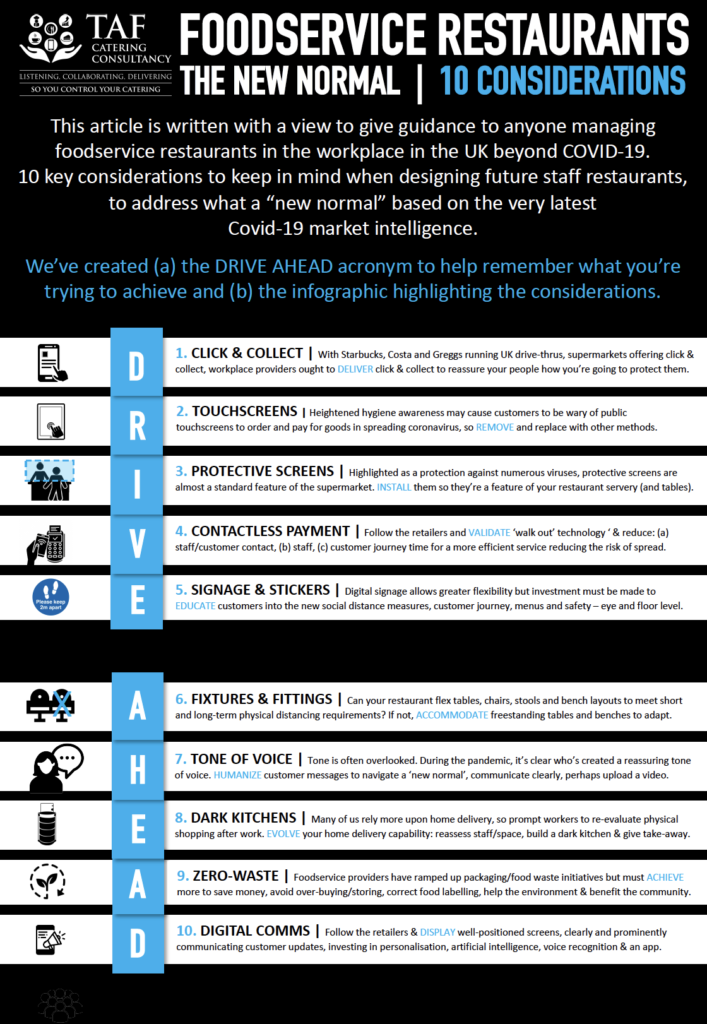 We created the DRIVE AHEAD acronym to help remember what you're trying to achieve and the infographic highlighting the considerations.
With the UK government providing guidance for lifting the lockdown, you may already be starting to plan your 'new normal' but remember you'll have to support the re-engagement of and communication to customers to help them to adapt to your 'new normal', especially in the workplace.
Heed my words, foodservice will rise up to be more powerful than ever before!
#catering #contractcatering #foodservices #eventcatering #caterers #restaurantmanagement #hospitalityindustry #taftalk