COVID-19 | UK High Street Retailers Inspire Workplace Foodservice
On Monday 15th June 2020, the UK's high streets opened for the first time in three months, a significant move for 2020 post lockdown. To understand the measures in place to ensure safe customer experiences, TAF visited 13 UK high street (non-essential) retailers:
1) Argos  | 2) EE | 3) Greggs | 4) H&M | 5) JD Sports | 6) John Lewis | 7) M&S | 8) PRET | 9) Primark | 10) Sports Direct | 11) Starbucks | 12) Top Shop  13) Vodafone
This article presents an overview of 5 "Covid-19 secure" initiatives retailers implemented that inspired us for applying to workplace foodservices:
Essential Digital Communications
Enhanced Sanitising Regimes
Effective Customer Engagement
Proactive Customer Flow Management
A Common Safety Measure: Protective Screens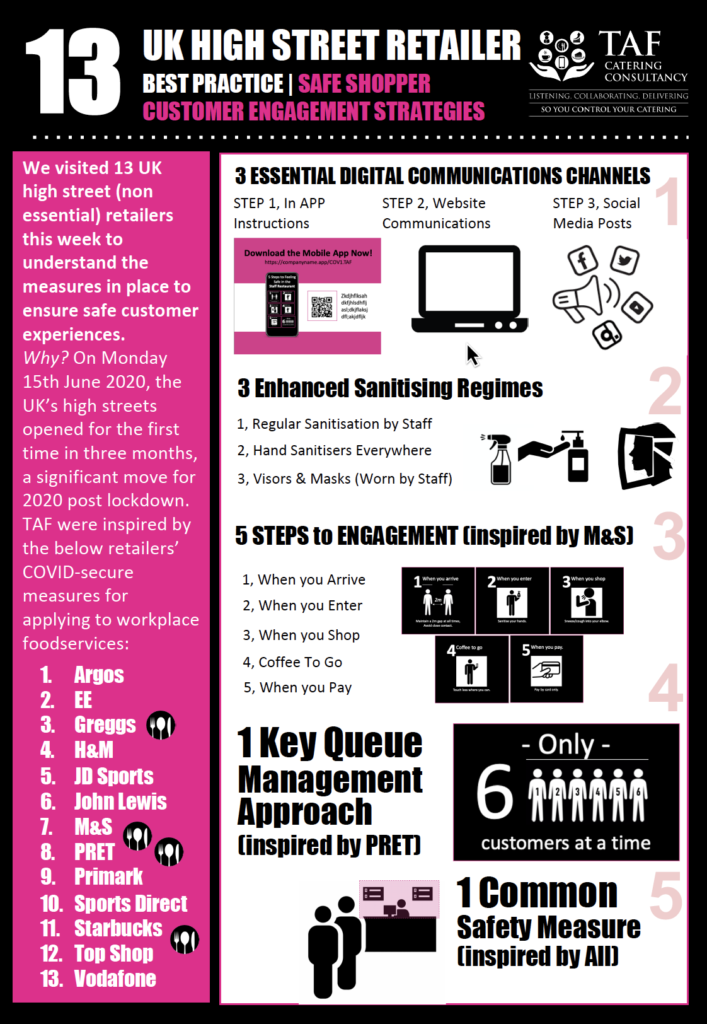 Essential Digital Communications
Digital channels are an essential element of the retailers' communications strategy. We identified three different platforms used to introduce customers to the steps taken to guarantee a safe and enjoyable customer journey:
customer apps with clear and essential information;
blog posts and statements on company websites; and
social media posting featuring video presentations of new store layouts through eye-catching graphics and employees as brand ambassadors.
Enhanced Sanitising Regimes
A common element to all retailers' communications, enhanced cleaning regimes are at the core of how outlets are getting ready to welcome customers and promote safety and hygiene for everyone. In particular, here's what customers can expect from high street outlets:
hand sanitisers at entry point and throughout the stores;
regular sanitisation of high touch point areas and hand contact surfaces;
personal protective equipment (PPE) for all members of staff.
Effective Customer Engagement
Of all the retailers that inspired us, Marks & Spencer stands out in the way they deliver their key message: "here's what we're doing to help you shop with confidence" considering the 5 touch points of the customer journey:
arrival
entering the outlet
shopping and browsing
take-away food services
customer care post-purchase
Proactive Customer Flow Management
The initiatives implemented include customer service attendants regulating access, signs and floor markings to indicate the 2 metres physical distancing while waiting, browsing and shopping, a number of services on standby, i.e. in-store returns. PRET's approach to this particular aspect stands out, the only retailer to specify that the maximum number of customers allowed in stores will depend on their square footage.
A Common Safety Measure: Protective Screens
All 13 high street retailers have installed countertop Perspex screens at till points and other customer facing locations. They will undoubtedly be a standard feature for the foreseeable future.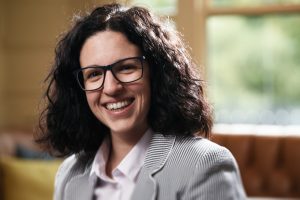 ukbusiness #newnormal #foodservices #foodservice #staffrestaurantsUK #contractcatering #catering #ukhospitality
If you are a corporate organisation with a staff restaurant that needs to open again soon and need some fresh, forward-thinking, app-savvy, sustainability-focused assistance, contact us to project manage your catering consultancy needs.
ALEX MINGONI | Consultant