COVID-19 WORKPLACE FOODSERVICES | FACE MASKS BENCHMARKED
With fifty million face masks bought by the UK government back in April 2020 not being used because of safety concerns, have YOU considered the best face mask options and how best to protect your workforce, colleagues and customers?
Tracey Fairclough, our Managing Director, contemplates the market, given that quality of masks is a hot topic amongst TAF's corporate client company organisations who ask her advice on the best options for catering staff having more face to face interactions with workforces.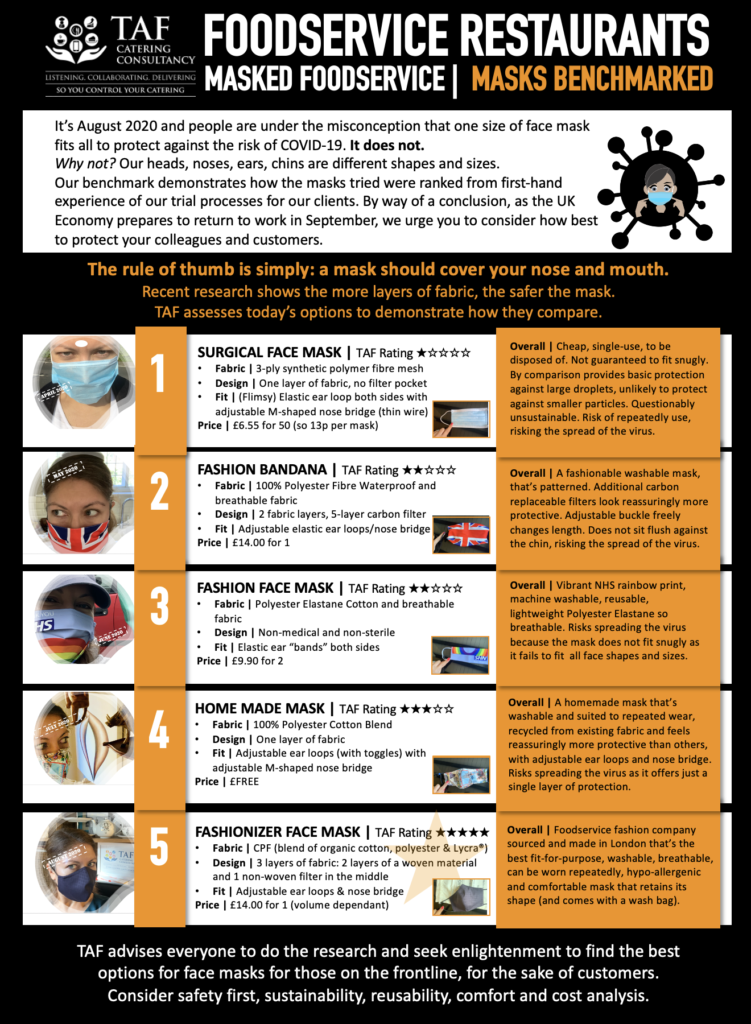 READ THIS NOW to see how the range of face masks we benchmarked (between April and August 2020) fared and make your own mind up… it's never too late to save a life … especially if it's your own!

Face Masks | The Challenge
We conducted our own benchmark because people are still under the misconception that one size of mask fits all. It does not. Why? Because all our heads, noses, ears, chins are different shapes and sizes, so we must recognise and address the quite serious challenges for beard-wearing baristas, those with larger noses or wider jaw lines and even those with larger heads (like me).
Face Masks | The Rule
The rule of thumb is simply: a mask should cover your nose and your mouth. Recent research shows the more layers of fabric, the safer the mask in reducing gaps. Why are more layers important?
Here's the technical bit published in the World Health Organisation WHO's guidance document:
"According to the current evidence, COVID-19 virus is primarily transmitted between people via respiratory droplets and contact routes. Droplet transmission occurs when a person is in close contact (within 1 metre) with an infected person and exposure to potentially infective respiratory droplets occurs, for example, through coughing, sneezing or very close personal contact resulting in the inoculation of entry portals such as the mouth, nose or conjunctivae. Transmission may also occur through fomites in the immediate environment around the infected person. Therefore, transmission of the COVID-19 virus can occur directly by contact with infected people, or indirectly by contact with surfaces in the immediate environment or with objects used on or by the infected person."
So, back to the rule, covering your nose and mouth with a mask should, whilst capturing large and small droplets and aerosol particles when we speak, sneeze or cough, prevent them from spreading.
Face Masks | The Fabrics
Now we've established WHY certain parts of the face need to be covered to best prevent the virus spreading, we need to familiarise ourselves with HOW certain fabrics can help or hinder the role a mask will play in protecting our lives and the lives of others. There are three primary fabric types.
Cotton | Known for comfort and durability, being soft and breathable, cotton is the most widely produced natural fibre on the planet. It can be woven or knitted into different fabrics. Each of which produces a different feel and wear. High-quality cotton is robustly durable, making it less prone to rips or tears. It isn't as durable as polyester or cotton/polyester blends., it can shrink when washed in high temperatures. When washing… use cold water and avoid too much detergent which affect the wear and tear of the fabric.
Polyester | A man-made fibre made from petroleum-based products, polyester is popular in the fashion industry. It's lightweight, silkier than cotton, traps sweat against the skin, stretches naturally to ensure comfort and doesn't naturally shrink or lose shape. It's more durable than cotton and most blended fabrics, less absorbent than most fabrics, can withstand lots of wear and washing, tends not to stain and is resistance to wrinkling, shrinking and fading when properly taken care of. When washing… machine wash in warm water with all-purpose detergent, followed with a tumble-dry at a low-temperature setting.
Cotton Polyester Blends | Fabric blends mean two or more fibre types combined to create a new fabric to improve the texture, durability, feel and even reduce costs. Today, hundreds of fabric blends are available on the market, as I discovered. The more popular blends for printed apparel are cotton-polyester blends. Cotton blended garments are more breathable compared to pure polyester products. The blends therefore create the prefect foundation for more colourful designs. When washing… Polyester doesn't shrink or change shape like cotton does, making this blend easier to wash and dry.
Face Masks | The Journey
April 2020 | Single use mask worn and reviewed.
May 2020 | Fabric "Union Jack" fashion bandana worn and reviewed.
June 2020 | Fabric "Thank You NHS" face mask worn and reviewed.
July 2020 | Fabric home made "Travel" face mask worn and reviewed.
August 2020 | Fabric (uniform supplier) well ness face mask worn and reviewed.
The time was invested into researching the ultimate mask, in reading the small print, wearing and testing, looking at disposal and sustainability, reuse and cost to communicate how the best masks perform and offer advise to clients accordingly.
Face Masks | The Conclusion
Our benchmark demonstrates how the masks tried were ranked from first-hand experience of our trial processes for our clients. We conclude that you can not go wrong if you prioritise: safety, sustainability, reusability, comfort and cost analysis.
CLICK here to read our full review as published in Hospitality & Catering News: https://lnkd.in/gCwYKDE
#facemasksareforlife #facemask #covid #mask #coronavirus #staysafe #stayhome #masker #masks #facemasks #quarantine #corona #fashion #socialdistancing #workplace #facilitiesmanagement #contractcaterers
If you are a corporate client organisation with a workplace staff restaurant that needs to open again soon and need some fresh, forward-thinking, app-savvy, sustainability-focused assistance, on face masks or to project manage any other catering consultancy needs, email our Managing Director, Tracey Fairclough, today ">.