Foodservices in the Metaverse: a New Technological Frontier for the Industry?
In October 2021, Facebook CEO Mark Zuckerberg announced the company rebrand to Meta, reflecting a shift in their core business from a social media company to a "metaverse company". The development had been a long time in the making, since Facebook entered the virtual reality tech market in 2014 by acquiring Oculus, a head-mounted display technology production company.
The announcement received mixed press reviews, with commentators highlighting how this was probably an attempt to distract consumers from the criticism the company had faced following the publication of the "Facebook Papers", as the rebrand didn't entail any substantial changes to the company structure.
An unprecedented social hype developed as a consequence: Google searches of the word "metaverse" skyrocketed in the following weeks, countless articles were (and still are) written and even an online journal called  Journal of Metaverse was founded.
For those not familiar with virtual reality technology (I wasn't either until I started university last year), the concept of metaverse is not at all new in tech and has been considered common place for several years within the gaming community, where multiple metaverses exist, allowing users to create and preserve their digital identity across different platforms.
The word was coined in 1992 by Neal Stephenson for the sci-fi novel Snow Crash. Set in the early 21st century, it imagines a future where power is in the hands of a few global corporations. The metaverse is a 65,000 km long road where humans enter as avatars – wearing goggles and earphones – to escape the real world. Since the novel was published, developments in technology have allowed to translate Stephenson's cyber-punk vision of a virtual future into an achievable reality, often referred to as "Web 3.0".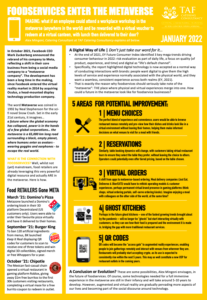 How does this connect to foodservices, you may ask? Well, whilst it is not (yet) a mainstream, widely utilised technology and market entry still carries considerable costs, food retailers are already leveraging this very powerful digital resource and actually ARE in the metaverse. Here is how.
March 2021: Domino's Pizza | Metaverse development company Metazone launched a Domino's ordering kiosk in their 3D platform Decentraland (US customers only). Users were able to order their favourite pizza virtually and have it delivered to their homes.
September 2021: Burger King | As part of a campaign to ban 120 artificial ingredients from their menus, the fast-food chain launched a range of "Keep It Real" meals in their restaurants. Each meal box displayed a QR code customers could scan to receive one of three NFT tokens. Upon collection of all three, customers entered a draw to win digital 3D collectibles, signed merchandise or free Whoppers for a year.
October 2021: Chipotle | To celebrate Halloween, the Mexican fast-casual chain opened a virtual restaurant within the gaming platform Roblox, giving away $1m worth of free burritos to the first 30k users visiting the restaurant. Customers who successfully completed a Halloween themed virtual maze were given a free burrito coupon to redeem at Chipotle physical outlets.
A Digital Way of Life
In November 2021, the EY Future Consumer Index identified 3 key mega-trends driving consumer behaviour in 2022: risk evaluation as part of daily life, a focus on quality (of product, experience, and time) and digital as "life's default channel". The report highlighted how digital tech is now accepted as a normal way of conducting brand interactions: consumers want digital to give them the high levels of service and experience normally associated with the physical world, and they expect a seamless, consistent experience across both realms (EY, 2021).
This is exactly the reason why foodservices should seriously take note of the metaverse: THE place where physical and virtual experiences merge into one. How could a future in the metaverse look like for foodservice businesses? Here's 5 areas for potential implementation (according to TAF):
Menu Choices | The perfect blend of experience and convenience, users will be able to browse restaurant menus remotely and pre-view how their dishes and drinks look like in a virtual environment without leaving their homes, helping them make informed decisions on what venues to visit for a meal with friends.
Reservations | Similarly, table booking dynamics will change, with customers taking virtual restaurant tours to ensure they select the table they prefer, without leaving the choice to others. Operators could potentially even offer tiered pricing, based on the table location.
Virtual Ordering | A shift from app-based to metaverse-based ordering may be on the horizon. Meal delivery companies such as Just Eat, Deliveroo and UberEATS would have to rethink their operating models to include more interoperable experiences, perhaps by creating a permanent virtual brand presence within gaming platforms, like the ones outlined previously (think shops, virtual ordering portals or self-serve ordering kiosks). What if you could enjoy a meal with friends that live on the other side of the world, delivered at the same time?
Ghost Kitchens | Perhaps in the future ghost kitchens – one of the fastest growing trends brought about by the pandemic – will no longer be "ghost" but interact virtually with customers, so they can see how their food is prepared and the environment it is made in, bridging the gap with more traditional restaurant services.
QR codes and Payments | QR codes will become the "access gate" to augmented reality experiences, enabling people to join gatherings remotely and interact with venues from wherever they are. In terms of future payment methods, an increasing number of restaurants will probably start accepting crypto, as its use is expected to consistently rise within the next 5 years. This may as well constitute a new USP for restaurant outlets in the coming years.
These are just some of the possibilities we envisage in the future of foodservices and the list is by no means exhaustive. Of course, some of the technologies needed for a full immersive experience in the metaverse are still in their infancy and will take around 5-10 years to develop. However, augmented and virtual reality are gradually pervading more and more aspects of our lives and becoming part of the social discourse around technology.
Picture this: what if, in 2032, an employee could attend a workplace wellbeing workshop in the metaverse (but from anywhere in the world, really) and be rewarded for taking part with a virtual healthy meal voucher to redeem at a virtual canteen, with lunch then delivered to their door?
Welcome to the realm of possible, welcome to the metaverse.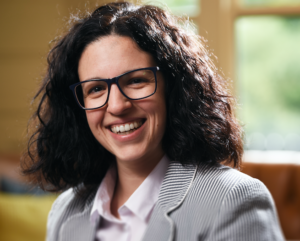 Alex Mingoni | Consultant
REFERENCES
Hoogendoorn, R. "Soon you order pizza while travelling in Decentraland" [Online]. Available at: https://www.playtoearn.online/2021/03/11/soon-you-order-pizza-while-traveling-in-decentraland/
Clark, K. "Chipotle brings Halloween 'Boorito' event to metaverse by opening Roblox storefront" [Online]. Available at: https://www.thedrum.com/news/2021/10/26/chipotle-celebrates-its-21st-boorito-event-opening-digital-roblox-storefront
Morrison, O. "Burger King's NFT strategy matures beyond stunts toward real engagement" [Online]. Available at: https://restaurantobserver.com/burger-kings-nft-strategy-matures-beyond-stunts-toward-real-engagement/
EY (2021), "People are moving on; be part of their normal" [Online]. Available at:  https://www.ey.com/en_uk/consumer-products-retail/as-consumers-move-on-stay-close