Hear no evil, speak no evil: what we really say and do about coffee cups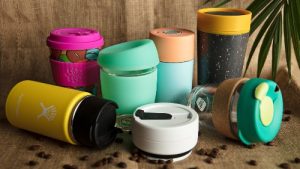 In 2018, the subject of unnecessary disposable waste hit the headlines and instigated an unrivalled step change in our behaviours as consumers and across businesses.
Long have corporations been following a trend where waste management and recycling has been a prompted action; helping us choose sustainable over non-recyclable materials but few consumers truly understood that their daily caffeine fix was in fact one of the worst culprits with their cunning [waxed] interiors and extra sleeves to stop us burning our hands – or those tops, so nifty and convenient on our way to the office.
So what changed in 2018?
Reflecting as an industry, David Attenborough is more often credited together with wildlife biologist, Liz Bonnin, who brought home hard the shocking plastics issue in our oceans and cities. Anyone who watched this admits they knew it was a problem (of course) but not to the extreme extent that was shown in the September 2018 BBC programme.
We are witnessing a purposeful, proactive stance on disposables in the workplace. WeWork have long transitioned their 540+ sites to glasses and cups leading to a re-think in kitchen stations, staffing and of course… all that washing up! WeWork seem to have the washing up thing buttoned down with a 'responsible policy' with a cup collection and a 'you use it – you wash it' policy.
This is fantastic. A utopia of ceramic paradise and lets not forget the re-usable cup. L'Oreal in Hammersmith have opted for KeepCups and an enforced policy that teaches everyone that playing their part benefits everyone; the bottom line, the planet and the distinct feel good factor from just realising that the disposable culture we've adopted can and should change.
Have we changed, really?
With such a high conscious appreciation of the actions we now take affecting our planet, at TAF we were very curious as to just how much we say we do and how much we actually do – and how easy is it to be that green, consistently, every day?
TAF spend a lot of time talking about coffee in our work – and we mean a LOT. Coffee is so central to work, conversations, culture and who doesn't remember the great coffee they were served and the really crappy cups of coffee when you attend meetings? In foodservice and hospitality, coffee is always a key part of any discussion, particularly in the B&I world.
We know we are making the shift to ceramics from disposables and of course, reusable sustainable cups. But just how hard is it to make that shift and what do we need to consider around that behaviour change?
How do you drink yours?
Like any good consultancy, we ran a survey asking those around us about our coffee drinking habits and what actions are being taken to live a more sustainable coffee drinking life.
With nearly everyone surveyed stating they buy at least one take out drink a day, and around 25% saying they buy a drink sometimes, that's a lot of hot drinks in disposable coffee cups. Everyone that responded was asked where they purchase their drinks, most state that the high street chains are their most frequented destination (90%) and 23% stating that independents are the place to go.
Majority state that they take the drinks in the coffee in the cup that's presented without asking for an option but 28% state they use their own cups and 25% ask for a 'proper cup' to cut waste. 75% of those surveyed said that if they had a reusable cup, they would use it regularly and 20% said they probably wouldn't. When asked why not, the overwhelming response was down to the bulk of a cup in their bags coupled the hassle of finding somewhere for the dregs.
Reusable cups are pricey too – ranging from £7-15+, those who have an eye on the planet and enough cash will be feeling great. If you're a worker on lower wages and the cheapest coffee on the way to work is £1.50 in a disposable cup, then sustainability might be frankly, the last thing on your mind.
Doing what we say
TAF's founder, Tracey Fairclough is a massive Stojo fan, the cups that literally fold down to use them open when needed and stow tidily away when not. With adoption of cups like Stojo, KeepCup and other models increasing in popularity, the one area we've yet to see companies address is…what happens when the reusables have reached the end of their reusable life?
Is the cost of sustainability sustainable?
When TAF has posed the question to caterers who actively bring reusables into their B&I contracts about the optimum replacement period after the initial, considerable investment – the answer is generally not known. As corporates adjust to new procurement policies in this area, TAF have been working on the sustainable equation for B&I to implement and uphold their new found policy.
The right equation
TAF's famous Coffee Benchmark Reports help identify for any employer offering perks at work the high street pricing, culture and comparison for their immediate area – and now includes the options for pricing with reusables to further encourage adoption of great coffee at work, beating the high street.
We are left in no doubt that the revolution is here to stay and will evolve further. One thing is for sure, we need to make it far easier and cheaper to adopt new behaviours.
TAF have right equation for reusable cups in B&I budgets for years to come and make this planet-changing behaviour one step closer to coffee heaven.
Survey results are from: Coffee: How Do You Drink Yours ©TAF Catering Consultancy Ltd 2018.