TAF's Top 10 Tips for Seamless Client Communication and Collaboration
COVID-19 has undoubtedly changed workplace practices and dynamics beyond all recognition and brought about substantial change in the way people work. We've heard it many times, but what does it really mean?
According to a survey published by the BBC last week, over 80% of the 50 UK's biggest employers said they are not planning to bring staff back to the office full-time but embrace a mix of home and office working instead, with staff encouraged to work from home two to three days a week. (source: https://www.bbc.co.uk/news/business-56972207)
With shorter working weeks on the horizon for the UK working population – Thursday appearing to be the new Friday – TAF Catering Consultancy asks: how can organisations guarantee operations run seamlessly and business objectives are met?
We believe it all comes down to effective communication and collaboration. In this era of virtual employee relations, communication is the most important factor that influences success. Implementing practices that promote effective workplace conversations is critical to producing results, as poor practices could cause organisations to miss deadlines and, even worse, lose revenue.
What does this mean to foodservices? The answer is simple: when you learn how to achieve seamless communication/collaboration internally and externally, the impact on catering operations can only be positive, especially in terms of managing client's expectations and delivering first class service.
Having recently supported an essential services client with operations spanning across the UK, TAF Catering Consultancy understands the challenges both clients and suppliers are facing and has developed a "10 Top tips to a seamless collaboration process".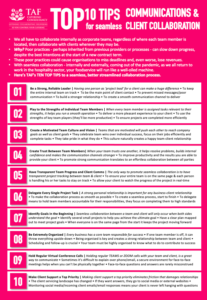 Be a Strong, Reliable Leader | Having one person as "project lead" for a client can make a huge difference in keeping the entire internal team on track and prevents missed messages and poor communication both internally and externally.
Play to the Strengths of Individual Team Members | When every team member is assigned tasks relevant to their strengths, productivity is higher, operations run smoothly, and clients can see the results.
Create a Motivated Team Culture and Vision | Teams that are motivated will push each other to reach company goals as well as client goals, celebrating collective wins over individual success. This culture naturally creates a happy team-client relationship.
Create Trust Between Team Members| Trust helps resolve problems within a team, builds internal confidence and makes communication channels stronger, to improve productivity and the results delivered to the client.
Have Transparent Team Progress and Client Comms | The only way to promote seamless collaboration is to have transparent project tracking between team and client, to ensure each team member is handling tasks effectively and allow clients to watch project progress in real-time.
Delegate Every Single Project Task | Delegating tasks means holding team members accountable for their responsibilities, so they focus on completing them to high standards. This will help create a seamless process start to finish.
Identify Goals in the Beginning | Seamless collaboration between project team and client will only occur when there is a common understanding of the goal. To achieve this a clear plan, with clearly mapped out milestones will help meet project goals.
Be Extremely Organized | Every business has a core team responsible for success, but absences and unforeseen circumstances can cause disruption. Being is organised is therefore key: scheduling and follow-ups are crucial, so the team know what to do to contribute to success.
Hold Regular Conference Calls | Keep communication channels open by holding regular video calls with team and client. A secure environment for face-to-face meetings helps when you can't be physically together, face-to-face questions and answers being rarely misconstrued.
Make Client Support a Top Priority | Making client support a top priority eliminates friction that damages relationships. Clients' servicing landscape has changed and if they want answers, they go to social media or external websites. Monitoring these channels and incoming client emails/responses means your client is never left hanging with questions.
#contractcatering #foodservices #hospitality #workplacecatering #facilitiesmanagement #remoteworking #flexibleworking #comms #returntowork
If you're a corporate client organisation with a workplace staff restaurant and need fresh, forward-thinking, app-savvy, sustainability and safety-focused support to establish the best catering solution for you, contact us to project manage your catering consultancy needs.