TechDine Solutions Are the Way Forward To Feed the Post COVID-19 Workplace Employee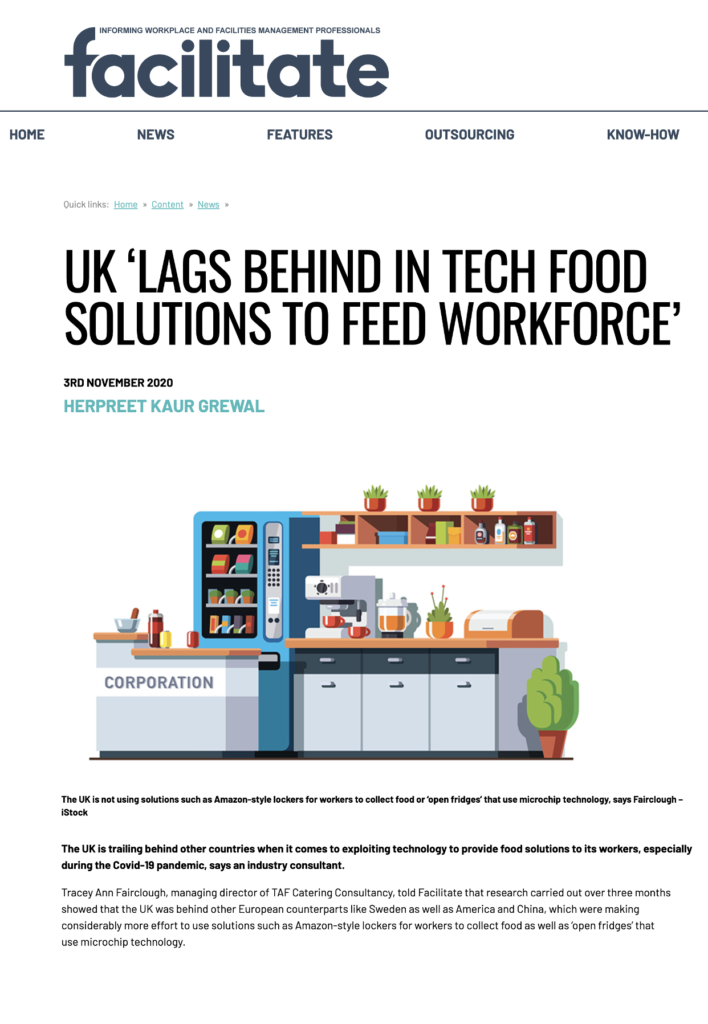 The TAF Catering Consultancy commented in this week's online Facilitate Magazine, following the consultancy's first post COVID-19 socially-distanced conference on 21st October 2020.
In the report entitled TAFTALKS2020 REPORT: THE DEFINITIVE GUIDE TO FOODSERVICES FOR FACILITIES (AND CATERING FOR THE POST COVID-19 CUSTOMER), TAF details its journey through lockdown.
The consultancy completed extensive qualitative and quantitative online research, to seek out the latest tech foodservice innovations, based on TAF's clients asking how to:
move away from a staff restaurant style service,
provide quality food cost effectively 24/7 to a phased working population and
feed their people as effectively at home as well as work, whilst managing costs.
TAF uncovered 12 new potential foodservice solutions across the UK, Europe and the rest of the world, meeting with 3 potential service providers in August and September 2020, as the country was coming out of lockdown, discovering Amazon-style lockers for workers to collect food or 'open fridges' that use microchip technology.
CLICK here to read the article in FACILITATE MAGAZINE today: https://www.facilitatemagazine.com/content/news/2020/11/03/uk-lags-behind-tech-food-solutions-feed-workforce
DOWNLOAD A COPY OF THE REPORT HERE: https://www.tafcateringconsultancy.com/blog/taftalks-2020-report-the-definitive-guide-to-foodservices-for-facilities-catering-for-the-post-covid-19-customer/
The "disruptive" TAF Catering Consultancy invite the corporate world to start thinking, engaging, sourcing, cooking, serving and performing differently in a post COVID-19 World of Corporate Catering!
For your post COVID-19 workplace catering consultancy needs, please do not hesitate to contact contact us.
#facilities #workplacesolutions #businessandindustry #foodservices#cateringconsultancy