Happy Birthday To TAF Catering Consultancy; Celebrating 2 Years of Consultancy around Workplace Catering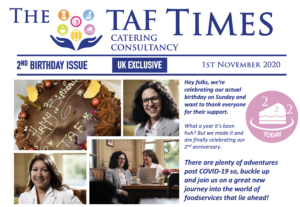 TAF Celebrates our 2nd birthday today and, as we always say, if it weren't for:
contract caterers … there would be no need for catering consultants and
facilities departments (employing caterers), there'd be no need for catering consultants within workplace environments.
For these two reasons, we are so happy to celebrate that we're in business in 2020.
In addition to this, we are in the midst of unprecedented and challenging times post COVID-19, but are intent on staying true to our company values to LISTEN, COLLABORATE & DELIVER solutions to our clients. 
Despite the challenging circumstances around the pandemic, those in facilities and foodservices continue to inspire us and work tirelessly to innovate around the clear and apparent obstacles, with there being no precedent and no clear indication of the what lies ahead. Each day being a moveable feast.
With unsettling, turbulent times behind and ahead of us and return-to-work timelines remaining uncertain, with companies and sectors operating under different timelines, there is a feeling of the UK wanting to return to a different kind of workplace.
This is where the TAF Catering Consultancy can support those in facilities, around their workplace feeding scenarios.
In the last two months alone, we have engaged 40 caterers in 40 days so know where the industry's best practice lies. We believe in a new kind of inspirational, can-do attitude, specialist expertise and flexible approach that is, as we speak, shaping foodservice facilities post COVID-19, to facilitate both the UK's physical and economic recovery.
If you are a corporate client organisation with people in the workplace to feed at the office (or at home), and you need fresh, forward-thinking, app-savvy, sustainability-focused and disruptive innovations to support you, contact us to project manage your catering consultancy needs.
Here's to a whole new world of foodservices post COVID-19!
TRACEY FAIRCLOUGH | Consultant & Managing Director