Restaurant Show 2019 Celebrates Mind-Blowing British Homegrown Catering, Culinary & NCOTY 2019 Talent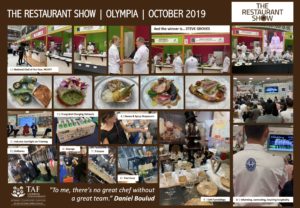 People and homegrown talent were very much highlighted at The Restaurant Show 2019, at Olympia, this year. We were blown away yesterday by the home-grown talent on display, especially given the alleged current skills shortage.
NATIONAL CHEF OF THE YEAR, NCOTY 2019
Firstly, what an exciting National Chef of the Year competition. If you were there, you would have celebrated for sure. Our competition talent pool – representing the "best of the best" – displayed an incredible culinary journey to create, innovate and wow.
We watched illustrious chefs Clare Smyth MBE (first female British chef to retain 3 Michelin stars) and Phil Howard (proprietor of 2 Michelin-starred The Square Restaurant) collaborate with peers, on the judging panel, representing the best and brightest culinary talent today. You could only watch on in awe and wonder: How could they possibly choose the "best of the best"?
But choose they did – from a finalist pool of caterers and contract caterers.
So, we send our big hearty congratulations to NCOTY 2019 Winner, Steve Groves, representing Roux at Parliament Square London. Whilst Steve pipped 119 chefs (drawn the length and breadth of the UK), we also congratulate all finalists of National Young Chef of The Year or National Chef of The Year. You did the rest of us very proud.
INDUSTRY SPOTLIGHT
Then, we listened to insights offered by Industry Spotlight panelists Dan Barnes, Dan Gratham, Jill Whittaker and Christopher Moore.
This interlude was about the lengths and measures that diverse organisations like Caprice Holdings, Yo Sushi, The Clink Restaurant Company and HIT Training are going to, when it comes to creating unique cultures around learning and training.
For me, it was a fantastic showcase of how caterers and restauranteurs are rising to today's challenges to cultivate a new breed of culinary talent. We're not to be defeated by the uncertainty that lies ahead and showing that we're starting to take hold of our culinary destinies.
3 SHOW INNOVATION HEROES
1 |  CHARGEBOLTS mobile phone charging networks – great for agile spaces around cafes & restaurants
2 | BROGGI's jam and honey dispensers – great waste & plastic minimisation initiatives
3 | CAM GO BIX bespoke food transportation units – great for retaining hot & cold temperatures in transit
All in all, yesterday put on a showcase of everything from uniforms, soft furnishings to furniture, and everything in between. For us, there was a decent array of specialist suppliers to support the success of your café, restaurant or foodservice enterprise!