BITES Live 2019, Conference Highlights According to TAF Catering Consultancy
Yesterday we attended BITES Live 2019. Hospitality business leaders shared thoughts with us on challenges and opportunities within the sector. A lively thought-provoking day, the speakers addressed independent F&B businesses, well-known pub and restaurant chains, food retailers and consultants. The common goal: to be inspir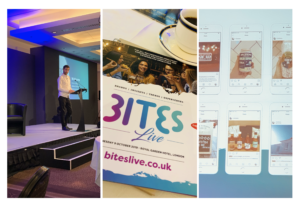 ed, gain valuable insight and exchange experiences.
Our Conference Highlights
1. Savanta | Top 100 Most Loved Eating Out Brands
The "Top 100 most loved eating out brands" were presented by market research company Savanta in a report, charts and a video shedding light and insight on consumer behaviour and what makes customers loyal to brands. NB. Their report, which we now have copies of, is due to be launched later this month.
2. ETM | Sports Bars for the Modern Consumer
Sam Bourke's lively presentation of ETM's London sporting and event venues focused on strategies to transform venues into "destinations". She spoke of how they influence people to get there together and remain long after the event, as well as ETM's use social media and technology to create customer relationships, driving enjoyment of experiences (so they return time and again).
3. SRA | Sustainable Catering Initiatives
Andrew Stephen from the Sustainable Restaurant Association spoke of sustainability objectives and initiatives to minimise environmental impact (i.e. UN Sustainability Goals) and waste (i.e. "Too good To Go"). However, he invited more foodservice businesses to think about the sustainable development goals, in driving more meaningful experiences today!
There was an interesting panel debate on Street Food: Ollie Hunter (Head of Development, KERB), Scott Collins (Owner, MEATLiquor) and Charlie McVeigh (Founder, Bunker Projects) shared their passionate views.
Apparently today's unnoticed battle occurs between independent street food trader (ambitious people with a passion for food, hard work and success) versus "corporate" player (dominating street food markets and festivals with convoys of H vans, forcing the independent traders out).
For TAF's consultants, attending thought-provoking events like this help us to understand today's challenges, how they affect our client businesses, areas for improvement, as well as social media, technology and sustainability initiatives.
Maybe we'll see you next year?