The TAF COLLECTIVE Signals A New Style of Catering Consultancy in 2022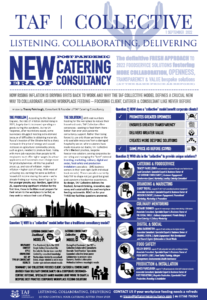 Rising inflation is driving Brits back to work this month and the TAF Collective Model defines a crucial new way to collaborate around WORKPLACE FEEDING – focusing Corporate Client, Caterer & Consultancy like never before.
According to Tracey Fairclough, Managing Director, it's the consultancy's definitive and fresh approach to 2022 foodservice solutions that fosters more collaborating, openness, transparency and value bespoke solutions AT THE SAME PRICE AS BEFORE.
THE CHALLENGE
According to the Bank of England, the rate of inflation started rising in 2021, largely due to increased spending on goods during the pandemic. As the UK reopened, after restrictions eased, some businesses struggled meeting extra demand because of difficulties in obtaining materials.
Russia's invasion of the Ukraine led to a sharp increase in the price of energy and caused increases in agricultural commodity prices, such as grain, needed to produce food.
Today with more job vacancies than people to fill (i.e. 174,000 according to UK Hospitality), employers must offer higher wages (to attract applicants) and businesses must charge more for products/services. All this has pushed prices up, and rate of inflation.
Higher inflation = higher cost of living.
With most of us buying less, earning the same as before – household income staying the same – we're already finding our money doesn't go as far. For younger people, esp. GenZers, aged 18 to 25, experiencing significant inflation for the first time, those in facilities must prepare for their return to the workplace to be fed, as they seek to reduce their cost of living.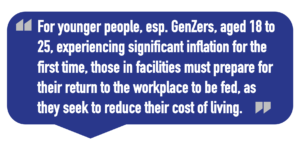 THE SOLUTION
With vast numbers heading for the workplace to reduce their household costs, TAF Collective offers corporates – seeking to feed them there – better than ever post pandemic consultancy support.
Rather than being forced to use only those we know or the only available resources from a damaged hospitality sector, where caterers have made resource cut-backs; TAF Collective offers the best practice, bespoke foodservice solution; serving corporates by recruiting and managing the "best" external branding, marketing, culinary, digital and social, food safety and production installation specialists – SME business owners in their own right(with individual track records). These specialists currently help TAF to shape not just good but great post-pandemic foodservice experiences.
By design, TAF Collective delivers the freshest, forward-thinking, innovative, app-savvy and sustainability-focused workplace feeding nationwide. READ on for your THREE key facilities questions answered.
Question 1| WHY is a "collective" model better than a traditional consultancy model?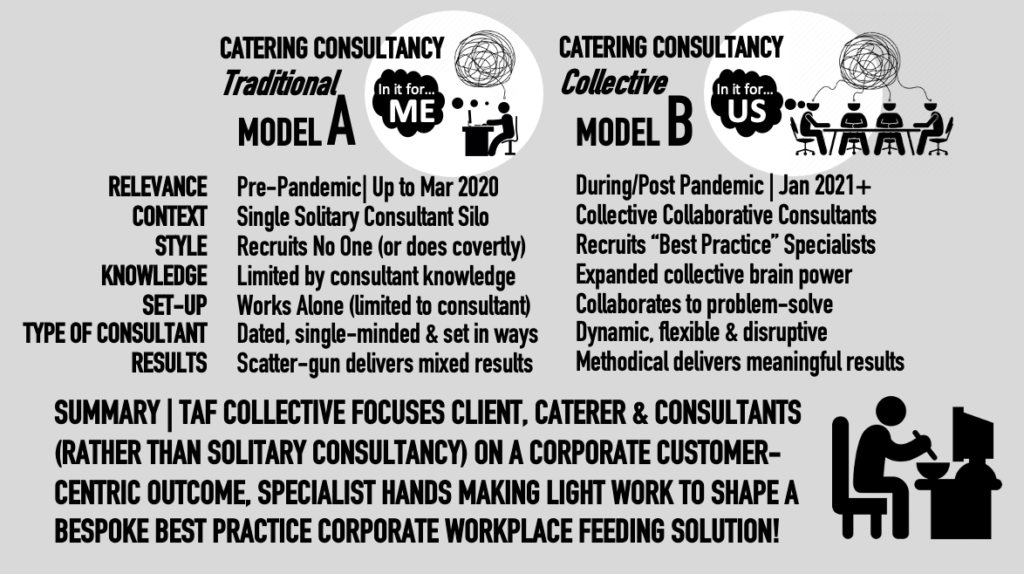 Question 2| HOW does a "collective" model benefit corporate clients?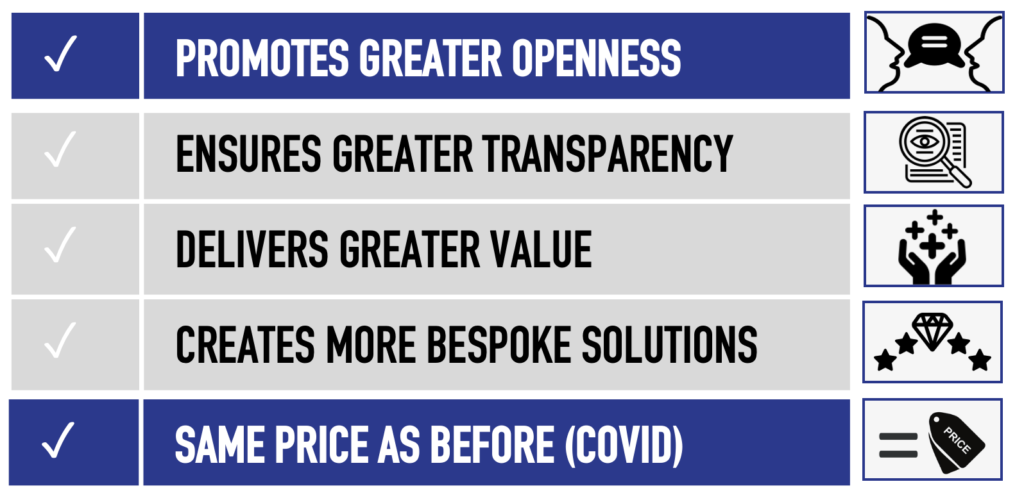 Question 3| WHO sits in the "collective" to provide unique solutions?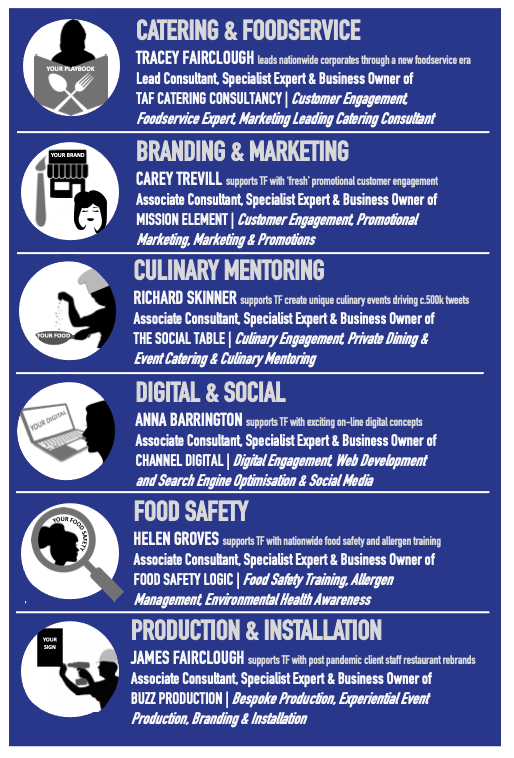 CONTACT US TODAY if your workplace feeding needs a refresh and, in these post pandemic times, you're not sure of the potential "best fit" bespoke solutions to feed those who matter the most to YOUR business!
CLICK here to make contact, send us an email and tell us what your top FIVE key challenges are: