Be Food Allergy Aware | Allergens Made Simple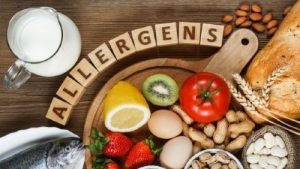 Calling all UK caterers and restauranteurs: Caroline Benjamin from Food Allergy Aware reported in a Webinar today there are not enough companies out there promoting their food allergy policy on their websites. I've just completed an Institute of Hospitality ALLERGENS MADE SIMPLE Webinar and two things are key in 2019: COMMUNICATION AND TRAINING.How many of you have a food allergy policy separate from the food safety policy? If you don't have a policy, go to the website and download an Allergy Matrix NOW; don't wait until someone dies! Thank You for listening! www.fatc.co.uk
TEN TOP TIPS TO HELP YOU BE MORE FOOD ALLERGY AWARE:
1. Why is it important to have a policy containing food allergy information?
Having one means catering/restaurant staff deliver a free-from customer safe journey.
It can address initial booking communications, to menu creation to customer feedback.
UK Food allergy sufferers: 1-2% adults, 5-8% kids.
Can you believe 1 in 50 kids will have a potentially fatal nut allergy?
Coeliacs & NCGS: 1 in 300 | Self-diagnosed: 10% of UK population.
IBS sufferers: up to 50% population (will report an intolerance to dairy/wheat).
2. Need Vs Want
PRET did what they needed to do but customers identified 6 opportunities with label improvements, If they had listened to customers, "Natasha" might not have died.
Lesson learned: If a customer comes to you with an issue – you listen, note and if 2 or more people say the same thing, complete a risk analysis to make improvements.
PRET are now adding a full ingredient list on all packaging
Do you remember the North Yorkshire Case in 2014 of the Chicken Korma that was sold using a cheaper ground nut mix (with nuts)? The owner of the Indian was warned, 6 weeks prior to the death of the customer, they needed to make labelling clear or reduce groundnut, they didn't and were jailed for 6 years for killing a customer who had an allergic reaction to the nuts.
COMMUNICATION AND TRAINING are key | Help reduce the 10 deaths a year!
3. Changes to the Law
Currently consultations are taking place so it's important to understand the legal implications moving forward.
4. What do you currently offer?
How many of you have a food allergy policy separate from your food safety policy?
Do you have a Gluten free menu?
Do you have a Dairy free menu?
Do you have Vegetarian or Vegan Menus?
Do you have a disclaimer statement i.e. 'Gluten free not suitable for coeliacs'?
5. Why should you have a policy?
It creates a Unique Selling Point for your business.
It sets standards for your business.
It shows consistency across your brand (consistent with HACCP/other key bodies).
It will promote what you do well and give customers confidence in your brand.
It will boost your venue and promote return visits.
See Case Studies: (a) Restaurants – Nandos (with exceptional menus, processes and staff) and (b) Contract Caterers – Artizian (with an exceptional online policy).
There are not enough companies out there promoting on their websites: step 1 is to audit your current processes and menus!
6. Communication
Communication needs to be disseminated from MANAGEMENT (L3), through SUPERVISORS/TEAM LEADS (L2) and then to ALL FOOD SERVICE STAFF.
You should have documented Information – Either a Manual and/or Software Tools
If you're not sure, go to the website and download an Allergy Matrix NOW; don't wait!
7. What makes a good food allergy policy?
Documented procedures
Supplier T&Cs
Purchasing policy
Changes to recipes on products
Replacement products
'May contains' policy around prepacked foods
Storage and delivery
Staff aware
Decanted products
Spillage products
Open products on high shelves
Signage posters (good and bad practice)
SAY WHAT YOU CAN AND CANNOT DO!!!
8. Training and Auditing
E-learning / online
Induction food allergy awareness work booklet
Level 2 & 3 Food Allergy Training
Bespoke Workshops
TRAINING & COMMUNICATION is KEY!
9. Who to Ask for advice?
#easytoASK
Food Standards Agency food.gov.uk
Allergy UK
Anaphylaxis
Coeliacuk
ASK stands for: A always ask about allergies | S – speak up | K – keep safe
10. What if you get it right?
£££££££££ Sales = Margin = Increase in Revenue
Loyal customers
Social media awareness
Recommendations to fellow FreeFrom diners
Free from market valued at £150 Million and increasing Y on Y
Balance what you NEED to do, what you WANT to do and what is RIGHT!