COVID-19 | SPOT THE DIFFERENCE FOODSERVICE COMPETITION | ANSWERED
FOODSERVICE RESTAURANT (OF THE PAST) VS FOODSERVICE RESTAURANT (OF THE FUTURE)
According to Foreign Secretary, Dominic Raab, the UK's lockdown needs to be eased carefully, meaning social distancing will remain for "some time". With Mr Raab hinting at some ways schools, sport and businesses could begin to return to "a new normal", we created a Spot The Difference last week, mainly for the businesses we provide catering consultancy for.
SPOT THE DIFFERENCE
We wanted to imagine the "new normal" world of foodservices in workplace contract catering and foodservices, post COVID-19. So last week we challenged you to spot 20 differences between our two TAF Corporate Workplace Staff Restaurant Serveries – one before and one post COVID-19 .
CLICK  on the below for our video showing the differences, as we saw them as a catering consultancy.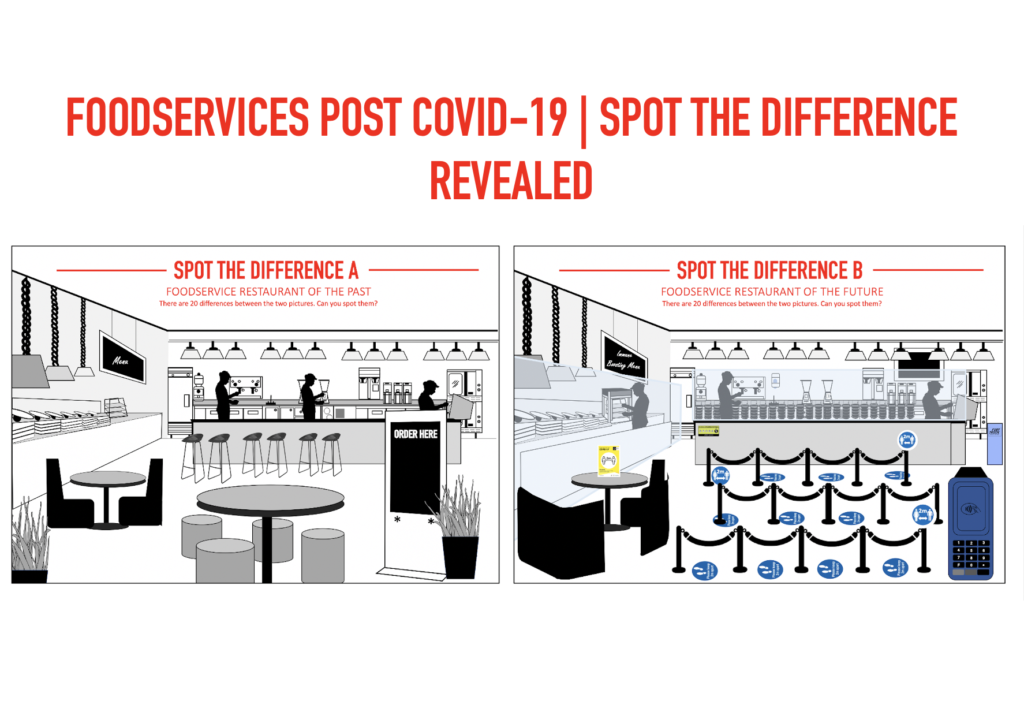 Did you spot all 20 differences? Perhaps you see some things we missed? Tell us your thoughts.
With the UK government coming under pressure from Labour to set out its "exit strategy" for lifting the lockdown… you may need to start planning for your "new normal" NOW.
If you need assistance, whilst your staff have furloughed, contact us to project manage your catering consultancy needs.
Let us know how you got on and remember … stay at home, protect the NHS and save lives!
TRACEY FAIRCLOUGH | Consultant & Managing Director
If you're in Foodservices, Facilities, Foodservice Procurement or need advice on how to support a best practice approach to a whole new world of foodservices in 2020, to look at how to redesign your staff restaurant and virus-proof your foodservices post COVID-19 … Contact us TODAY at !
#caterers #hospitalityservice #foodservice #eventcatering #chefs #contractcatering #chefslife #chefstalk #contractcatering #hospitality #foodservice