NEW Clink Charity Ad; Styal & Substance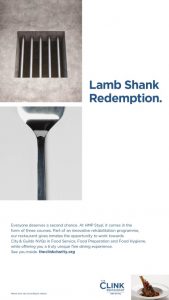 DESPERATELY SEEKING SUPPORT *** I love The Clink Charity, its training restaurants, its gardens. A recent Justice Data Lab Report says a Clink graduate is a WHOPPING 49.6% less likely to reoffend having been through training.
5 Things to Know:
Today there are circa. 84,000 prisoners in the UK; 80,000 men and 4,000 women.
49%** of prisoners reoffend within one year of release.
If a sentence is less than 12 months, that figure rises to 66%**.
Reoffending costing the UK Taxpayer a total of £15bn a year.
THERE IS A HUGE SKILLS SHORTAGE IN HOSPITALITY AND YOU – AS AN EMPLOYER – CAN HELP!
What am I asking you to do?
Well, this wonderful charity, of which I'm an Ambassador, is training and equipping serving prisoners with key skills, confidence & qualifications (which is integral to reducing reoffending).
However, the charity needs host venues to employ trained graduates.
INTERESTED? If so, please contact the charity directly at www.theclinkcharity.org.
In the meantime, check out their new advert for Styal!