TAF Catering Consultancy Month End BLOG | March 2020 | COVID-19 Hits UK Hospitality
Month End Status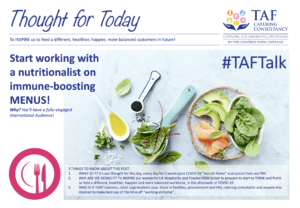 Well what a month end post to launch with for MARCH 2020!
From the very beginning of TAF's existence, back at the end of 2018, it was my intention to post a month end blog. It never actually happened because I underestimated just how the TAF Catering Consultancy would take off and how busy we would be; it's been hectic since day one, 1st November 2018.
That was until two weeks ago when we went into "self isolation" with the rest of the UK, back on Wednesday 23rd March 2020. Then there was THAT surreal national broadcast, with everyone in the UK bleakly gathered around TV, PC, laptop and/or smart phone to witness our Prime Minster's clear instruction to stay at home and only leave your house "to shop for basic necessities (food, medicine and exercise) and if you did leave the house to distance yourself from anyone else by two metres". The term "self isolation" was one we would never have considered to roll off the tongue so frequently but then that was before the Coronavirus Outbreak or COVID-19 shook our planet to its core.
So, in the thick of self-isolating and working "from home", we reconsidered TAF's options and thought how much better to use the time self-isolating to try and think outside-the-box to support the hospitality and foodservice industry (and all who sail in her). An industry we all adore so much. It soon became clear, our industry was crumbling, day by day and meal by meal, as caterer by caterer was sent home to isolate. Only then, it seemed the right time to blog, with a view to try and inspire some new thinking!
What is TAF's Monthly Blog About?
We'll do a recap with behind-the-scenes insight of the month gone by; be prepared for our raw honesty though. 😉
March 2020 FEATURES:
NEW #TAFTalk (via LinkedIn)
TastyTravelGuide (via Instagram)
1 | In #TAFTalk's "Thought For Today" FEATURE – posted through TAF's LinkedIn Account – we hinted at key focus areas we thought it best for caterers in "self-isolation" and "Stay-At-Home" mode to start contemplating:
a) Working with a nutritionalist on IMMUNE-BOOSTING MENUS … to have fully-engaged audiences
b) Improving WASTE MANAGEMENT Practices & Systems … to tackle future potential food shortages
c) Creating an APP TO GO CASHLESS … to go "touch-free" everything when we go back to work
d) CROSS-TRAINING Your Teams … to maximise the available labour pool talent
e) Installing SCREEN SNEEZE GUARDS to counters … to protect food, catering staff & customers
f) Increasing SEASONAL UK GROWN produce … to help increase food security & control food prices


2 | In TastyTravelGuide's "Immune-Boosting" FEATURE – posted through TAF's Instagram account – we turned our thoughts to key foods best to start consuming to immune-boost menus and help fight infection targeting: #citrusfruit, #redpeppers, #broccoli, #garlic, #ginger, #spinach and #yoghurt.

What's in store for APRIL?
This is a hard one to predict but, come what may, we hope to keep the flag flying for foodservices and support our industry and the hard-working people within it, as much as is possible. For when we do all eventually return to work, which WILL happen, we will have to acclimatise to a new way of feeding people in workplace restaurants, cafes, coffee shops, delis and agile spaces, that's for sure!
Thank you for reading this to the end, my first blog. If you would like to keep tabs on what's we're up to, then follow us on LinkedIn (for #TAFTalk) or Instagram (for TastyTravelGuide). Alternatively, feel free to comment or message me directly at .
In the mean time, do keep healthy, happy and a sense of humour to hand!
Best Wishes
Tracey