TAF Celebrates 1st Year as UK's newest Catering Consultancy
Today we are mostly celebrating 1 year of the TAF Catering Consultancy Ltd and, hurrah, what a phenomenal ride!
Apparently we're THE "fresh, forward-thinking, innovative, app-savvy & sustainability-focused" catering consultancy (not our words but some of the words used by the clients who've appointed us).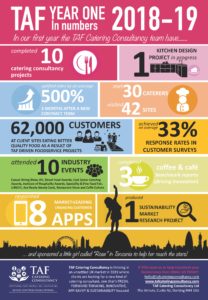 Thanks to everyone for supporting our foray into the fabulous UK foodservice sector as an alternative catering consultancy.
Here's to the clients who've appointed us, the caterers we've engaged with and the lucky buggers we've yet to meet!
I'm proud to have had the opportunity to grow my business in such dynamic, exciting and unpredictable times.
Who has a career that tickles their taste buds every day? I do and I just love our foodservices industry and the people in it!
Contact us if you want to transform your foodservices TODAY at !
Tracey (Managing Director)