NEW Clink Charity Ad; Serving Thyme Reduces Reoffending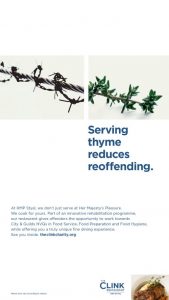 Last Thursday 28th March, there was a breakfast debate at The Clink Restaurant at HMP Brixton about the 'City of London: Prison and Prisoners', where Alderman William Russell – due to be Lord Mayor of the City 2019/2020 subject to election – was the guest speaker. It was both an intimate yet very sobering session, one I was privileged to attend.
A recent Justice Data Lab Report says a Clink graduate is a WHOPPING 49.6% less likely to reoffend having been through training.
5 Things to Know:
Today there are circa. 84,000 prisoners in the UK; 80,000 men and 4,000 women
49% of prisoners reoffend within one year of release
If a sentence is less than 12 months, that figure rises to 66%
Reoffending costing the UK Taxpayer a total of £15bn a year
There is a huge skills shortage in UK hospitality
What are we asking you to do?
Well, this wonderful charity, of which I'm an Ambassador, is training and equipping serving prisoners with key skills, confidence & qualifications (which is integral to reducing reoffending).
However, the charity needs host more help, support, donations and employing venues to continue its hard work and effort.
IS IT THE START OF YOUR FINANCIAL YEAR AND DO YOU UNALLOCATED BUDGET? If so, please contact the charity directly at www.theclinkcharity.org.
In the meantime, check out their new advert for Styal!